Redwood High School Alumni
All Classes 1959 to present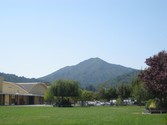 WELCOME TO OUR NEW WEBSITE!
l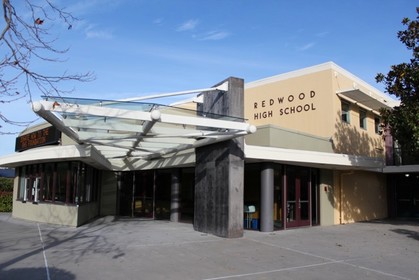 THIS NEW WEBSITE AND DIRECTORY is the official home of the RHS Alumni Association…24,000 alumni from 1959 to present. It offers many great new features for all Alumni classes that weren't available before and it's all free:
In "Classmate Profiles" you get on-line access to the (all) alumni directory when you join.
It's easier to stay connected… Finding and communicating with fellow Alumni is a snap.
"Teacher Profiles" are now included so that you can locate that favorite of yours.
"Reunions and Class Contacts" has direct links connecting you to your class websites, reunion information and social media pages like Facebook.
"In Memory" lets you share a memory of Alumni or Teachers who have passed on.
Privacy: You maintain control of your personal information. You create it, can change it and can limit its visibility, at any time. Information is restricted to members only.
This new site runs on "Giant-power" and needs everyone to participate: You create your own profile and keep your contact information up to date to make it go. We also want you to "Contact Us" with your feedback and suggestions to make it run better.
GETTING STARTED: The first thing to do is Join. It's free, safe and the minimum input is just an email address and a log-in password. Once you Join you'll have access to the entire site and can receive future communication on Alumni activities, Class Reunions and more.
Click on JOIN! Then click on your year of graduation …click on your name ...and Join! If you want more help, click on "First Time Visitors" at the top left of this page and you'll get more detailed instructions on how to join and use the site.

NOVEMBER ACTIVITIES:
25 Staff St. Anthony's Luncheon in Kreps Center 11:45
26 Alumni Basketball Games in Roark Gym: Come and cheer on the Alumni!
6:00 Girls Game
7:30 Boys Game
27 Thanksgiving Turkey Bowl Games (who knows where or when?)
28 Class of '04 Reunion at Servino's in Tiburon 7:00 pm (see reunion page for details)

'69ers VISIT SUPERBOWL CHAMPION COACH PETE CARROLL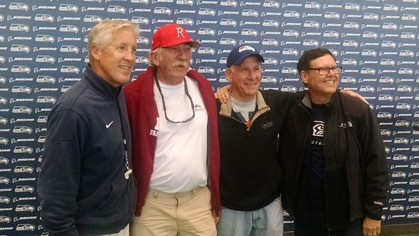 '69ers: Pete Carroll, Lou Larsen, Don Meyer and Henry Diaz

TIME TO START PLANNING THE NEXT ROUND OF REUNIONS FOR 2015! The Alumni Council is developing a "packet" to help organizers plan and celebrate their reunions. We have a database of class list information, and will soon have more detailed suggestions for locations, costs, decorations and activities. Please go to the "Reunions and Class Contacts" section of this website for more information.

So far the 2014 reunions have been a huge success! Congratulations!
JULY 26: Class of '84 30th Reunion at Wellington's Wine Bar in Sausalito
SEPTEMBER 6: Class of '64 50th Reunion at the Spinnaker in Sausalito
SEPTEMBER 27: Class of '94 20th reunion at Piatti's in Mill Valley
OCTOBER 18: Class of '74 40th Reunion at Rickey's in Novato
NOVEMBER 28: Class of '04 at Servino's in Tiburon

REDWOOD SPIRIT: Alive and well! Check out this amazing viral video ..
LIP DUB 2014 Produced by Jack Bushell & 2014 Senior Class, the cast includes the entire RHS 2014 student body.

THANK YOU TO THOSE WHO HAVE MADE DONATIONS! The RHS Alumni Association is underwritten by the Redwood High School Foundation and we support the Foundations goals. In 2014 the Foundation helped us establish a $2500.00 Alumni Scholarship program: It's now Awarded annually to two students who have demonstrated high potential, as well as financial need. If you want to help you can contribute any amount via check, corporate matching gift, or via a business donation using this link: DONATE ONLINE , or throught the Redwood High School Foundation website: RHSF. Consider making a contribution in honor of a teacher who made a difference in your life and be sure to identify yourself as an alum and your year of graduation! ? To see a list of recent Alumni donors click on "Giving back to Redwood" in the left hand collumn above.

FIRST ALUMNI SCHOLARSHIP AWARDED: The first Alumni Scholarship of $2500 was given to Ingrid Sousa '14 who is now attendng UC Santa Cruz. Read more about Ingrid in the "Giving Back..." section.
ANNOUNCEMENTS
ALUMNI COUNCIL EXECUTIVE BOARD MEETING
MONDAY, DECEMBER 8 at 4:30 pm in room 112
If you wish to join us or have topics for us to address, please let us know. The next regularly scheduled ALUMNI COUNCIL MEETING will be Wednesday, January 14, 2015.