Redwood High School Alumni
All Classes 1959 to present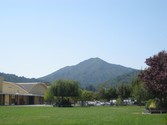 WELCOME TO OUR NEW WEBSITE!
l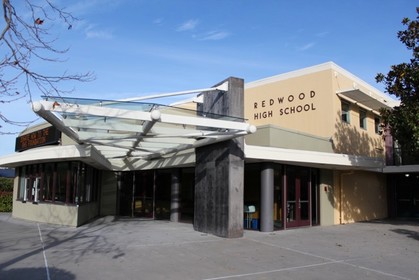 Like us on Facebook DONATE NOW
ANNOUNCING THE 2015 DISTINGUISHED ALUMNI!

AVENUE OF GIANTS:
Scott Evans '86 Astrophysics
Joan Lubamersky '68 Community and Public Service Activist
Emily Pilloton '99 Project H Design...Revolution
Tiffany Shlain '88 Webby and Indie Movie Producer
For details go to Avenue of Giants Page
Avenue of Giants Banquet honoring 2014 and 2015 Inductees will be March 6, 2015. Watch this site for details!
ATHLETIC HALL OF FAME:
Michelle Santino Isaak '87
James Connor '77
Hal Schulz '76
Aleco Preovolos '83
Duncan MacSwain Coach
Details coming to Redwood Athletic Hall of Fame Page. 2015 and 2016 RAHOF inductees will be honored in March, 2016.
THIS NEW WEBSITE AND DIRECTORY is the official home of the RHS Alumni Association…24,000 alumni from 1959 to present. It offers many great new features for all Alumni classes that weren't available before and it's all free:
In "Classmate Profiles" you get on-line access to the (all) alumni directory when you join.
It's easier to stay connected… Finding and communicating with fellow Alumni is a snap.
"Teacher Profiles" are now included so that you can locate that favorite of yours.
"Reunions and Class Contacts" has direct links connecting you to your class websites, reunion information and social media pages like Facebook.
"In Memory" lets you share a memory of Alumni or Teachers who have passed on.
Privacy: You maintain control of your personal information. You create it, can change it and can limit its visibility, at any time. Information is restricted to members only.
This new site runs on "Giant-power" and needs everyone to participate: You create your own profile and keep your contact information up to date to make it go. We also want you to "Contact Us" with your feedback and suggestions to make it run better.
GETTING STARTED: The first thing to do is Join. It's free, safe and the minimum input is just an email address and a log-in password. Once you Join you'll have access to the entire site and can receive future communication on Alumni activities, Class Reunions and more.
Click on JOIN! Then click on your year of graduation …click on your name ...and Join! If you want more help, click on "First Time Visitors" at the top left of this page and you'll get more detailed instructions on how to join and use the site.

CONGRATULATIONS REDWOOD! Redwood is considered one of the Best Public High Schools In California...#10 out of 14, 431 high schools in the state! Our alma mater continues to give students and excellent education, and we as alumni, should be very proud.

IT'S TIME TO GIVE BACK! As we all enter the Holiday Season we are once again asking you to give back to the Redwood community by contributing to the RHS Foundation 2014-15 Annual Giving Campaign. Through contributions to this campaign from parents, teachers and alumni, the Foundation provides the school with tools to inspire learning which are unparalleled in most other public schools.
This money will be directly allocated at Redwood to enhance Academic, Arts, and Athletic facilities and programs. Foundation relationships and contributions also support Scholarship programs and all Alumni activities such as the Avenue of Giants, the Athletic Hall of Fame, Alumni Scholarships and the Alumni Website/Directory. Without your support these things would not be possible.
There is no suggested Alumni contribution and any amount you give will be greatly appreciated. If you want to help you can contribute any amount via check, corporate matching gift, or via a business donation using this link: DONATE NOW. If you prefer to donate by mail: download or you can Contact Us.

DECEMBER ACTIVITIES:
8. Alumni Council Executive Board Meeting 4:30 pm Jason's
19. Last day of Semester

'69ers VISIT SUPERBOWL CHAMPION COACH PETE CARROLL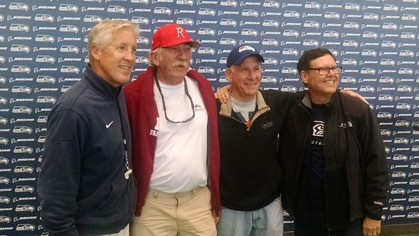 '69ers: Pete Carroll, Lou Larsen, Don Meyer and Henry Diaz

TIME TO START PLANNING 2015 REUNIONS ! The Alumni Council is developing a "packet" to help organizers plan and celebrate their reunions. We have a database of class list information, and will soon have more detailed suggestions for locations, costs, decorations and activities. Please go to the "Reunions and Class Contacts" section of this website for more information, and let us know your plans as soon as yu can!

REDWOOD SPIRIT: Alive and well! Check out this amazing viral video ..
LIP DUB 2014 Produced by Jack Bushell & 2014 Senior Class, the cast includes the entire RHS 2014 student body.