Redwood High School Alumni
All Classes 1959 to present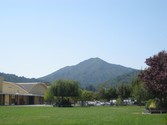 Steven Wallis
Profile Updated:
June 6, 2019
| | |
| --- | --- |
| Residing In: | Petaluma, CA USA |
| | |
| --- | --- |
| Spouse/Partner: | Cecily Wallis |
| | |
| --- | --- |
| Occupation: | Researcher, Author, Consultant - specializing in strategic planning & policy |
| | |
| --- | --- |
| Children: | Arthur, born 1984;Angela, born 1985 |
Yes! Attending Reunion
Great sense of humor. I will always remember his whistling.
As one would walk by, he would start talking... as if you caught him in the midst of a conversation or telling a story. It would be the end of the story that would leave you amused and intrigued. Something like... "so I took the five thousand, jumped out the window and... Oh Hi Steve!
Ah, now this is sad. I remember "Mr. Blake" approached life and teaching with gusto - and a great sense of humor!
See the blog at: http://fsp-iamo.blogspot.com/
Many other pictures available upon request!

From Change to Change: A Fulbright Specialist Story

By Steven E. Wallis, PhD
swallis@meaningfulevidence.com

I am relatively new to the world of higher learning. I earned my PhD about ten years ago. During that decade I was working in my first career. Using only my spare time for teaching, researching, and publishing. That research has been rather unusual; resulting in a heterodox method for objectively evaluating, integrating, and improving conceptual systems such as theories and policy models. This method, called Integrative Propositional Analysis (IPA), essentially measures the transformative capacity of our theories – their ability to generate successful change.

After retiring from my first career, I was encouraged to share my work with others around the world through the Fulbright program. I cannot give enough thanks to Rebecca Loehrer, my chair at Capella University or my colleagues from my alma mater, Fielding University including President Katrina Rogers, Greg Daneke, and my mentor Robert Silverman. With their encouragement, and the support of my amazing wife, Cecily, I applied to the Fulbright Specialist Roster and was accepted.

The significance of my new approach drew the attention of Dr. Vladislav Valentinov, of the IAMO research institute. IAMO is mainly staffed with researchers who are developing policy recommendations to support agriculture and institutional improvements in developing nations. Dr. Valentinov submitted an application to the Fulbright Specialist Program specifying that I should be the specialist due to the innovative and useful nature of IPA. The project was accepted and I soon found myself flying to the lovely city of Halle, Germany.

The following five weeks were a stimulating and intellectually challenging mix of presentations, workshops, and meetings with individual scholars. Combining their subject matter expertise with my methodology, we worked to improve their theories, policies, and strategic plans. As might be expected, I learned a lot about agriculture, economics, and life in transition economies from my new colleagues. In turn, they learned about IPA and made structural improvements to their theories. In a surprising turn, some also provided suggestions for improving my methodology. Ideas that open a new stream of research.

Another fascinating benefit was resulted from IAMO's international nature. It is staffed with researchers from around the world. I worked with scholars from Germany, Russia, Ukraine, Uzbekistan, and China. While I was prepared for an inter-national experience, I received a virtual kaleidoscope of poly-national perspectives. I was honored to be invited to dinner at their homes (and to play with their children – something this grandfather always enjoys!).

Of my many experiences, one that stands out is the recognition that we were communicating across barriers of language, nation, culture, and academic fields. We had every opportunity to misunderstand – to give up and go back to our small offices and ignore one another. Certainly, that would have been the easiest route. Instead, we took the extra effort to reach out, to connect, to understand one another. That striving, in my opinion, makes it all worthwhile.

If you are reading this, and you have not considered applying for a Fulbright grant, please begin considering it now. If you are reading this and are considering it, please take action and apply. It will change in ways you might not imagine.

Measured in "normal time" mine was a short journey; merely a few weeks. Yet, it has also been the journey of a lifetime. It is the culmination of my work in the academic world. And, a big step forward in my ability to help scholars and practitioners as they work to make the world a better place. The IAMO research center has improved their capacity by gaining new understandings of their strategic plan, their theories, and their ability to develop policy recommendations that are more sustainable. Working with them, I have improved my capacity to help others.

Wrapping things up, I leave IAMO with one complex project completed. And, there are new projects that have already begun. One new colleague and I have started to write a paper. And, we have at least two more in outline form. With another colleague, I will be developing a course for teaching IPA at her university. For myself, I will be writing one or two papers based on my experiences there.

I developed IPA to evaluate the ability of theories to enable change. Yet, I am in awe, and deeply appreciative of the transformative events I experienced on this Fulbright Specialist adventure. I feel changed. With more confidence in my new approach. Yet, paradoxically, a new understanding of how IPA may be improved. I guess that is the difference between tourism and the deeper engagement of a Fulbright Specialist project. With tourism, one may learn something of another culture. With a deeper project, one learns something about the culture, one's self, and the complex interrelationships between the two. And, how that interrelationship supports surprising change in us all.