Redwood High School Alumni
All Classes 1959 to present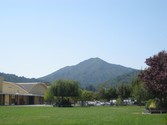 Kathleen Hatch
Profile Updated:
April 5, 2019
Yes! Attending Reunion
I finally sent in my Rebel Legion application a few days ago. I haven't heard back yet, but I don't expect to for at least another week. But still, every time I see I have an email notification I have a miniature panic attack. So nervous!
How did Luke Skywalker get around the forest moon of Endor after his speederbike crashed? Ewoked!

Also... why do Wookiees like their pasta al dente? Because it's a little bit Chewie!

Yeah, I know. Those were terrible. I'll show myself out.