Redwood High School Alumni
All Classes 1959 to present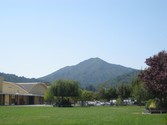 WELCOME TO OUR WEBSITE!
l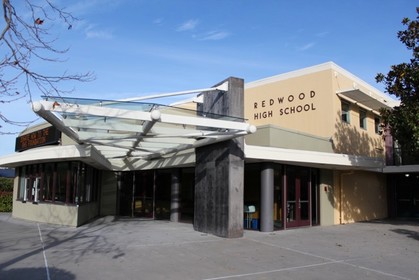 ALUMNI SPEAKER DAY MAY 25
Every other spring Redwood Alumni are invited to participate in a special day at Redwood, speaking to current students about your career path and the role Redwood played. This is open not only to members of the Avenue of Giants, but any interested Alumni. If your are doing something that you think students would be interested in hearing about, and you would like to share your wisdom, please fill out the attached survey by March 15. We cannot guarantee that everyone will be able to participate but we will do our best to match you with interested classes.
IT'S TIME FOR THE ALUMNI SCHOLARSHIP DRIVE!
Each spring, as seniors hear from colleges and universities, the Redwood Alumni Association reaches out for funds to support the Redwood Alumni Scholarship. Our goal is to raise more than $2500 by May 1 so that we can give a scholarship to a deserving Redwood student. The Alumni Scholarship is awarded to a senior who has excelled in high school despite financial hardship
Zachary Lopez-Brennan was the 2017 recipient of the $2500 Redwood Alumni Scholarship. He is also the son of Redwood Alum, Michael Brennan '86.He is attending UCSB and studying Physics and Astronomy, with a special interest in rocket science.
Your help is needed. Please make a donation of $25 or more. If you would like to make your donation in honor of a special teacher or classmate, please fill out the information on the form and we will pay tribute to them on our website.
2018 ALUMNI SCHOLARSHIP ONLINE DONATION
If you would prefer, you may send a check made out to:
Redwood Foundation/Alumni Scholarship
c/o Redwood High School
395 Doherty Drive, Larkspur CA 94939
REDWOOD ATHLETIC HALL OF FAME SOLD OUT!
The Athletic Hall of Fame banquet was held on Saturday, March 3 and was a huge success!. Thank you to all who attended and supported these outstanding athletes! The next banquet will be in 2020! Those inducted are: Detailed bios on RAHOF members page
Frank Ferroni '76 Athlete - Baseball
Daryl Edralin '73 Athlete - Football and Baseball
Bruce Kreitzberg '86 Special Recognition
'77 Varsity Baseball Team Special Recognition - Team
Tacy Dunham '70 Athlete - Swimming, Gymnastics, Basketball, Track & Field
Ned Overend '73 Athlete - Mountain Biking, Track & Field, Cross Country
Roger Smith '70 Athlete - Baseball, Basketball
Jodie Wertz Trutzschler '85 Athlete - Track, Basketball, Volleyball
Anne Zarroanandia Coach - Tennis
2018 AVENUE OF GIANTS will be recognized at our banquet in 2019
Alicia Schwartz Garza '98... an advocate for women's rights, the LBGTQ Community and people of color, and one of the founders of Black Lives Matter.
Cynthia Boeck Hardy '77...cofounder of the Green School in Bali, Indonesia, a school, a school modeling sustainability and green principles, preparing students to be stewards of the environment.
Sarah Kelly Oehler '91... recently became the Chicago Art Institute chief curator of American Art
Robert Watson '79... is the founder of the LEED green building rating system, promoting green building throughout the world.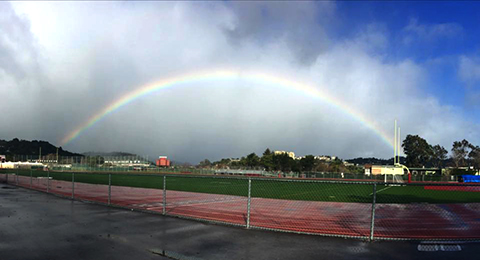 Rainbow Over Troppman Football Field, Flash Basham Track
2018 REUNIONS ARE IN THE WORKS!
Be sure to check our reunion page for details of upcoming reunions. It's not too early to start planning reunions for 2018. In fact several classes have already begun. Contact us at reunions@redwoodalumni.org and we can help you get started and send you the class database.
ANNUAL REDWOOD ALUMNI GIVING DRIVE
The Alumni Association works closely with the Redwood Foundation. They raised over $1mil last year to help Academics, Arts and Athletics. They sponsor our activities, we help raise monies for the Foundation and the Alumni Scholarship, as well as assist at some of their events. It's time for us to step up to the plate and help with any kind of contribution, large or small!

DONATE NOW!
**Please mention that you are an alum and give your year of graduation!
Here is a sampling of recent grants made to the school:
Chromebooks and carts/ Guest artists/ Music and Fine Arts/ Laptops, software, scanners and gopro cameras/ Film and music sound equipment/ Annual funding for Music and Drama departments/ Annual funding for Benchwarmers/ Ongoing funding for Ghilotti Field/ Stationary Bikes/ Speech and Debate Fees/ Mock Trial Fees/ Funding for 3 Issues ofRedwood Root Sports Magazine/ Beautification/ Student Wellness Center Supplies
A GIANT THANK YOU
THANK YOU ALSO TO THOSE WHO CONTRIBUTED TO THE ALUMNI SCHOLARSHIP LAST SPRING. THE AWARD WAS GIVEN TO Zachary Lopez-Brennan.
Alumni and staff could make donations in honor of teachers and classmates in ( ).
Irma Cambri Wilson '71 (Sue Chelini)
Karen Roby Barrett '63
Trish McCrohan '77
Frank Sabella '75
Peter Fisher '78 (Medigovich, Porter, Belsky)
Patricia Gondolfo '77
Emily Clark Farrell '83
George Carewe '70 (Mike Ritchart '70)
Bessie Chin
Gerry Warburg '72 (Charlie Feeney)
Lou Larsen '69
Joan Lubamersky '68
Steven McCormick '69
Stephen Hettleman (Sylvia Jones)
Joseph Barton '79
James Carbone '74 (Gigonas)
Keith Simmons '73
H Pike Oliver '65 (Marta Girtler)
Peter Pike '61
Daniel Hersch '78 (Basham)
Jeff Skov '61 (Paul Daly)
Hayley Moller '07 (Kelemen)
If you would prefer, you may send a check made out to:
Redwood Foundation
c/o Redwood High School
395 Doherty Drive, Larkspur CA 94939
ALUMNI TODAY...
We have over 23,000 alumni, with only 3100 having joined our website. We have 6-8 alumni "running the show" through the Alumni Council. We would really like to have new ideas, fresh faces and more involvement. Check out our nest meeting!
ALUMNI COUNCIL MEETING
WEDNESDAY, March 14TH AT 6:30 PM
ROOM 112 AT REDWOOD

50 YEARS OF REDWOOD HISTORY IN VIDEO!
We are excited to announce that the amazing video made for Redwood's 50th Anniversary in 2009 has been finally been uploaded to our website. You'll find it listed at the very top left of our Menu on the this page. Take a few minutes...19+ to be exact...and enjoy classic yearbook photos and decades of great music. Can you find yourself? Your best buddy? 50 memorable years of changes in students and styles, memories and music. All Redwood Giants!

SURPLUS YEARBOOKS AVAILABLE FOR SALE!
The Redwood Alumni Association has purchased most of the surplus yearbooks from Redwood for a very good price...We can offer them to you for only $50 including shipping and handling. We have one or more for most classes since 1975, some classes being more scarce. If you have lost a yearbook or never bought one, and are interested, please contact info@redwoodalumni.org with your name, year of yearbook and mailing address. We will notify you and if the yearbook is available, will give you payment instructions!

REDWOOD SPIRIT: Alive and well! Check out this amazing viral video ..
LIP DUB 2014 Produced by Jack Bushell & 2014 Senior Class, the cast includes the entire RHS 2014 student body.