Redwood High School Alumni
All Classes 1959 to present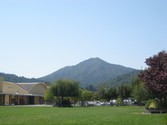 Redwood High School Athletic Hall of Fame (about)
The Redwood Athletic Hall of Fame ("RAHOF") was started in 2009 as part of Redwood's 50th Anniversary celebration. The RAHOF honors former Redwood Athletes and Coaches and gives Special Merit "Individual" recognition to those who have made major contributions to the athletic experience in any or all sports activity at Redwood. In 2016 the RAHOF introduced a new Special Merit "Team" recognition category.
Qualifications: Athletic candidates must have graduated HS 15 years prior to selection. Qualified Coaches are now eligible 3 years after they have completed a minimum of 5 years/seasons coaching service at RHS. Special Merit - Individual candidates ...must be really special and the same will go for Special Merit - Teams which additionally need to pass the 15 year "test of time" hurdle.
Nomination: Each year former Athletes, Coaches and Special Merit - Individual & Team candidates are nominated to the RAHOF candidate pool by members the RHS community at large. If you're reading this you're probably part of this community so this means you are qualified to nominate someone your think belongs in RAHOF. Qualified nominations are valid for three years and un-selected candidates are re-evaluated each year during this period. New information on a candidate can always be added to nominations. It is welcomed and if substantial, it can re-start the 3 year cycle. We are always actively seeking great and new candidates so please consider nominating someone you feel is deserving. Nominations are due by October 1st. For those who have joined the Alumni website, on-line nomination forms are available in the "Atheletic Hall of Fame" section. Non-members can download a mail-in form by clicking these links:
ATHLETE NOMINATION FORM
COACH NOMINATION FORM
Individual SPECIAL MERIT NOMINATION FORM
TEAM NOMINATION FORM
Selection (Election): Each year up to; 4 Athletes, 1 Coach and 1 Special Merit - Individual candidate are selected to be inducted into the RAHOF. One Special Merit - Team selection is made every two years. The process of evaluation and selection is is exhaustive... done by a formal selection committee, pre-appointed by the Alumni Association and composed of RHS Alumni, Coaches, Parents and Staff.
Induction: Every other year a RAHOF Banquet is hosted by the Alumni Association to honor the prior two years selections and formally induct them into Athletic the Hall of Fame. The last was a huge sucess. The next is scheduled for March 2025 at McInnis Glof Club in San Rafael. Tickets can be purchased on the Home Page of this web site.
Who is in: An informative listing of the current members of the RAHOF is available on this site. In addition a special recognition, trophy case is available for viewing at RHS in the main gym.
If you have questions, please email us at redwoodathletichalloffame@yahoo.com .