Redwood High School Alumni
All Classes 1959 to present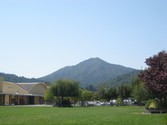 Giving Back to Redwood
THANK YOU FOR YOUR DONATIONS TO THE REDWOOD ALUMNI SCHOLARSHIP
Each spring the Redwood Alumni Association gives a $2500 scholarship to a deserving student. We need your support to keep this tradition alive, now more than ever. Please consider contributing $25 or more by April 15, 2022, to this wonderful cause and help a student reach his/her dreams. You may donate to honor a former teacher, staff member, or classmate and we will notify them.
DONATE NOW ONLINE to or BY MAIL the 2022 Alumni Scholarships!
If you would prefer, you may send a **check made out to:
Redwood Foundation
c/o Redwood High School
395 Doherty Drive, Larkspur CA 94939
**Please mention that you are a Redwood alum and give your year of graduation!
NEW... BILL WILKINSON SCHOLARSHIP
We also have another scholarship for your consideration. Redwood alum, Jed Bullard '66, has made a generous donation establishing the five-year (2021-2025) Bill Wilkinson Scholarship for a needy student. Sadly, Bill (Mr. Wilkinson to most of you) former teacher and administrator, passed away last week. If you would like to add your contribution in Bill's honor to this scholarship, you can use the link or address above. Be sure to mention ... In honor of Bill Wilkinson. obituary.
2021 REDWOOD ALUMNI SCHOLARSHIPS: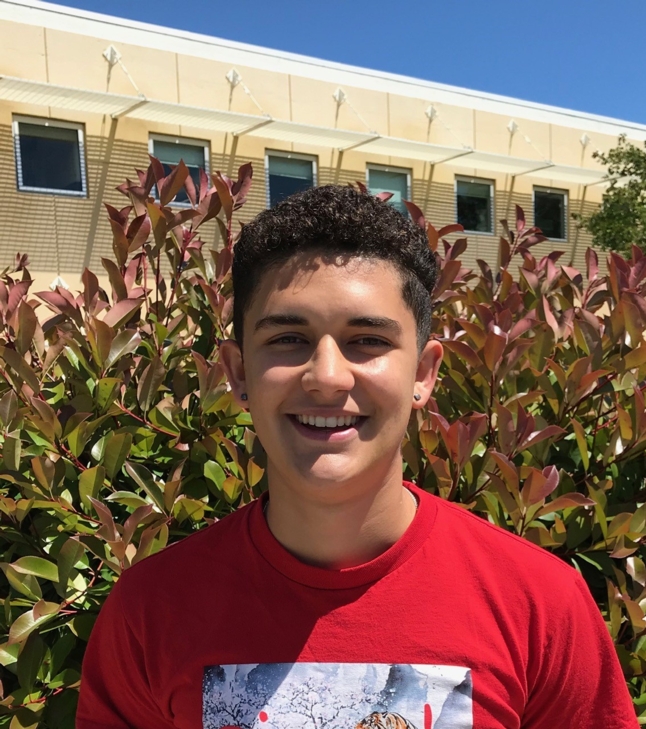 Ryan Barbosa, Alumni Scholarship winner, came to Marin with his
mother from Brazil. From an early age, he was interested in politics and
very disturbed by the corruption in his home country. He is determined
to study politics and international relations so that one day he can
return to Brazil and become its President! He said he might start out as
Governor of California! He plans to study at St. Mary's in Moraga.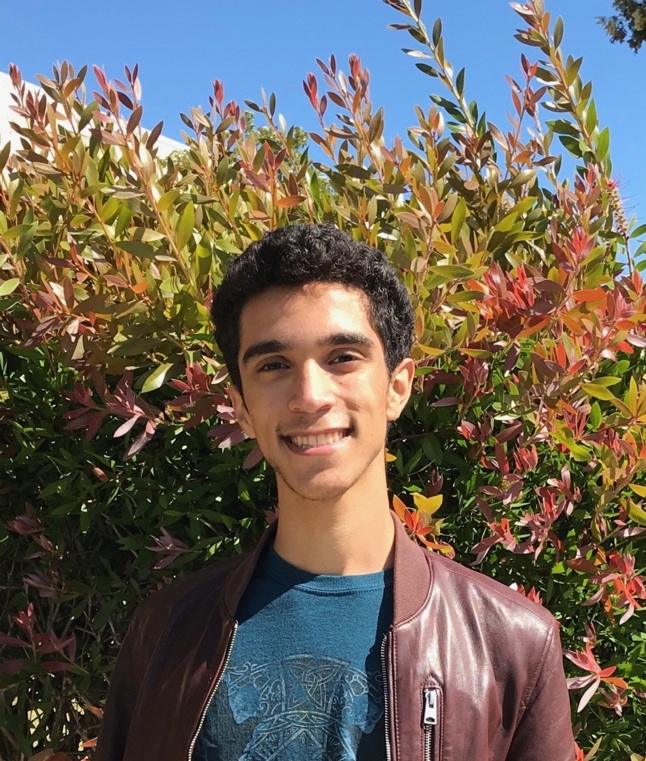 Dante Luis, Alumni Scholarship winner, moved around quite a bit which
forced him to find a passion... programming virtual reality simulations and
video games. He taught himself and was quickly recognized for his skills
and determination. He has been accepted at Rensselaer Polytechnic
Institute in Troy, NY with good financial aid to pursue his dreams.
Saidy Reyes, Bill Wilkinson Scholarship winner, is a perfect fit for this
award. This scholarship was created this year to honor a retired
teacher who went on to get a law degree in immigrant relations. Both
Bill's wife and Saidy hail from Guatemala. Saidy arrived in this country
four years ago leaving her parents behind. She lives with her sister and
quickly became fluent in English, enough so to be able to take several
AP classes! She has been accepted at UC Davis to study landscape
architecture and was just notified that she is the recipient of a Fulbright Scholarship for her first year.
PRIOR SCHOLARSHIP WINNERS: The first Alumni Scholarship of $2500 was given to Ingrid Sousa '14 who attends UC Santa Cruz and is studying pre-med. The 2015 recipient is Mia Poyner '15, the daughter of Alum George Poyner '68, who is attending USC to study human biology. The 2016 recipient was Kylie Kvam '16, daughter of Alum Laura Crunelle Kvam '83, who will attend Cabrillo College to play Volleyball and pursue a career as a Sports Agent for female athletes.The 2017 recipient is Zachary Lopez Brenner '17 off to study Rocket Science at UCSB. He is also the son of an alum. In 2018, the Alumni Scholarship went to Talia Fleishman '18, daughter and grand daughter of alumni to study Art Therapy at NYU, and a special scholarship from the class of 1967 went to Nicole Fazzari '18 studying nursing at Arizona State.The 2019 Alumni Scholarship went to Sydney Hilbush '19 who will be attending UC Berkely this fall. The 2020 scholarship went to Lucy Berry '20 who went to Texas Christian University in Fort Worth to study Chemistry, actually neuro-chemistry.
KREPS DEDICATION TO EDUCATION LIVES ON
Don Kreps, the founding Principal of Redwood High School, and his wife Eileen, also an educator, had a profound impact on the high standard of education in Marin County. They are no longer with us but have left a generous donation of $100,000 to Redwood teachers to be used over a ten-year period. We all know that the support and enrichment of teachers is key to an excellent education. A GIANT thank you to Monica Kreps Sevy '78 and Dan Kreps '66 (representing the family,) who have been working with Principal David Sondheim to make this happen.
REDWOOD ANNUAL GIVING CAMPAIGN 2021-2022
The Redwood High School Foundation works collaboratively with the Redwood Alumni Association to support academics, arts, athletics, and scholarships. All donations in the name of Alumni are funneled through the Foundation, and they, in turn, fund all Alumni activities and needs. We encourage you to make small or large donations at any time. Please contribute to the:
The Redwood Alumni Scholarship

Redwood Foundation School Grants (Academics, Arts & Athletics)
Online payment through the Redwood Foundation:
DONATE ONLINE ALUMNI DONATION FORM
**Be sure to mention that you are an Alum, Class of 'XX when donating**
Not only does the Redwood Foundation support Alumni Activities (Avenue of Giants, Athletic Hall of Fame, Alumni Scholarship, Website...), it raised over $1.2 mil last year for Redwood Academics, Athletics and Arts. For more information about the Foundation, go to redwoodhsfoundation.com.
A GIANT THANK YOU to Alumni and Retired Staff who made contributions to the 2020-2021 Giving Back campaign and the Scholarship Fund!.
Thank you for giving back to Redwood!
Donations for 2020-2021 Alumni Scholarship:
Mark Larsen '66 Craig J Corsini '69 Jeff and Paula Skov '61
Steven (Lou) Larsen '69 James Ted Wray '72 Thomas Estudillo '70
Sylvia Jones (Teacher) James Scadden Stan Cooper (Teacher)
Cristine Gondak '67 Joan Lubamersky '68 Ross Gondak '70
Peter Fisher '78 Barry Kaufman '64 Matt Ockner '84
Peter Pike '61 Devra Jarvis '77 Hoy Buell '68
Christy Wise '71 Nancy Lubamersky '72 Robert Tanner '70
Hilary Thakral Edmond Eger '79 Roberta Koss (Teacher)
Carol Brownstein '79 Rebecca Smith '99 Victoria Oetzell '71
Judy Daniel '83 Walter Gillett '77
Donations to the Bill Wilkinson Scholarship 2021
Edward Jed Bullard '66 Susan Horn-Sosna '99 Caitlin Pike '93
Marilee Rogers '61 (Teacher) David Anderson '65 Sue Devinny '74
Donal Brown (Teacher) Denis Ragan (Teacher)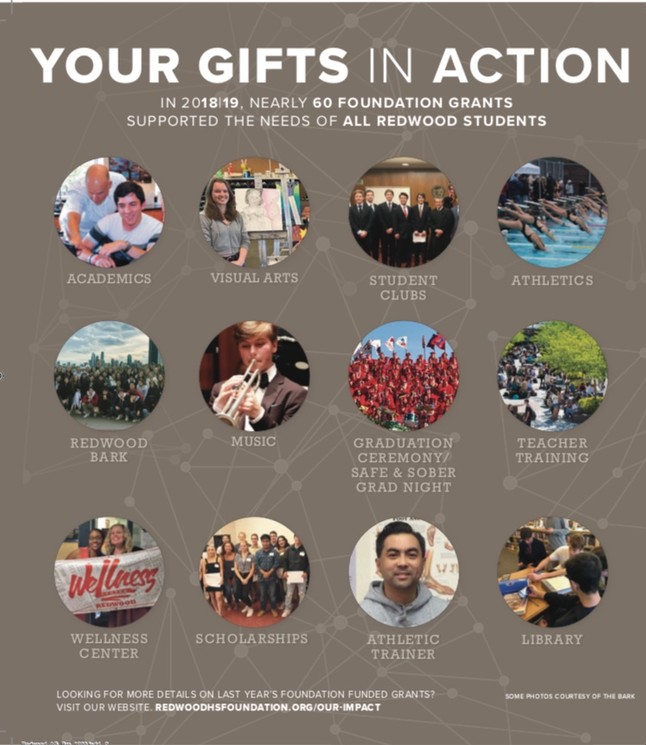 GIVE AS AN INDIVIDUAL or AS AN ALUMNI BUSINESS
All donors will be listed on the Alumni website and if you wish, your business can be listed on the Alumni website with a live link to your website or email address.

Alumni businesses who would like more exposure to the Redwood community can also become part of the Redwood Foundation Business Partnership Program More Information

Questions? Contact Ross Gondak or Marilee Rogers
OTHER WAYS TO GIVE BACK TO REDWOOD:
Legacy Bricks are a great way to support Redwood while leaving a lasting memory. Personalized inscribed bricks are a great way to honor upcoming graduates, salute future Giants or honor Redwood Alumni or Staff and are placed in the Lunch Plaza area. Click Here to order your Legacy Brick now for the 2018-19 School Year.
Donate to the ARCHIVES... Many of you are cleaning out closets and finding treasures from your days at Redwood. We would like them if you don't! Old scrapbooks, programs to sporting events and dramatic productions, photos, newspaper articles, yearbooks, Barks, uniforms...Redwood has established an archive in the Bess Chin Library, a safe place for your memories, and a place where students and reunions can access them. Please contact Karen Roby Barrett '63
Participate in the ALUMNI SPEAKER DAY.
Offer to VOLUNTEER at the school: supervising games, proctoring tests, guest lectures, beautification...
Join the ALUMNI COUNCIL and help plan Alumni Activities and improve communication!