Redwood High School Alumni
All Classes 1959 to present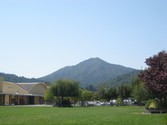 Giving Back to Redwood
IT'S TIME TO DONATE TO THE REDWOOD ALUMNI SCHOLARSHIP
Each spring the Redwood Alumni Association gives a $2500 scholarship to a deserving student. We need your support to keep this tradition alive, now more than ever. Please consider contributing $25 or more by May 15, 2021 to this wonderful cause and help a student reach his/her dreams. You may donate to honor a former teacher, staff member or classmate and we will notify them.
DONATE NOW to the 2021 Alumni Scholarship!
If you would prefer, you may send a **check made out to:
Redwood Foundation
c/o Redwood High School
395 Doherty Drive, Larkspur CA 94939
**Please mention that you are a Redwood alum and give your year of graduation!
2020 REDWOOD ALUMNI SCHOLARSHIP GOES TO LUCY BERRY!
Congratulations to Lucy Berry '20, this year's recipient of $2500 Alumni Scholarship. She is a straight A student, planning to go to Texas Christian University in Fort Worth to study Chemistry, actually neuro-chemistry. As the Co-Editor in Chief of this year's Redwood Yearbook, she has been able to use her creativity, leadership and enthusiasm to overcome the challenges brought on by the coronavirus. Lucy is a diligent student and involved young woman. She is also the leader of the Tobacco Use and Prevention Education program, taking on the tough job of educating her peers. She is the embodiment of responsibility, integrity and leadership in a time of much uncertainty for her generation. She will become a graduate worth watching!
PRIOR SCHOLARSHIP WINNERS: The first Alumni Scholarship of $2500 was given to Ingrid Sousa '14 who attends UC Santa Cruz and is studying pre-med. The 2015 recipient is Mia Poyner '15, daughter of Alum George Poyner '68, who is attending USC to study human biology. The 2016 recipient was Kylie Kvam '16, daughter of Alum Laura Crunelle Kvam '83, who will attend Cabrillo College to play Volleyball and pursue a career as a Sports Agent for female athletes.The 2017 recipient is Zachary Lopez Brenner '17 off to study Rocket Science at UCSB. He is also the son of an alum. In 2018, the Alumni Scholarship went to Talia Fleishman '18, daughter and grand daughter of alumni to study Art Therapy at NYU, and a special scholarship from the class of 1967 went to Nicole Fazzari '18 studying nursing at Arizona State.The 2019 Alumni Scholarship went to Sydney Hilbush '19 who will be attending UC Berkely this fall.
REDWOOD ANNUAL GIVING CAMPAIGN 2019-2020
The Redwood High School Foundation works collaboratively with the Redwood Alumni Association to support academics, arts, athletics, and scholarships. All donations in the name of Alumni are funneled through the Foundation, and they, in turn, fund all Alumni activities and needs. We encourage you to make small or large donations at any time. Please contribute to the:
The Redwood Alumni Scholarship

Redwood Foundation School Grants (Academics, Arts & Athletics)
Online payment through the Redwood Foundation:
DONATE ONLINE ALUMNI DONATION FORM
**Be sure to mention that your are an Alum, Class of 'XX when donating**
Not only does the Redwood Foundation support Alumni Activities (Avenue of Giants, Athletic Hall of Fame, Alumni Scholarship, Website...), it raised over $1.2 mil last year for Redwood Academics, Athletics and Arts. For mor informations about the Foundation, go to redwoodhsfoundation.com.
A GIANT THANK YOU to Alumni and Retired Staff who made contributions to the 2019-2020 Giving Back campaign and the Scholarship Fund!.
Thank you for giving back to Redwood!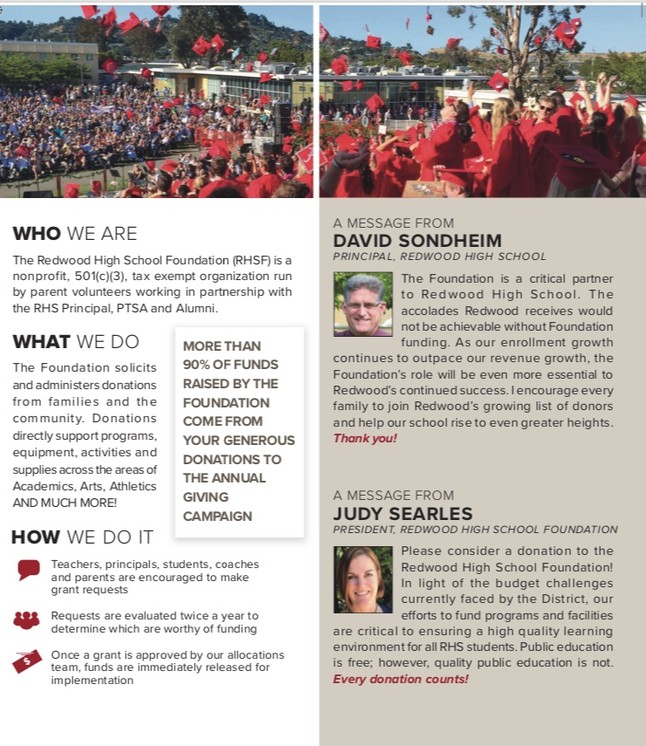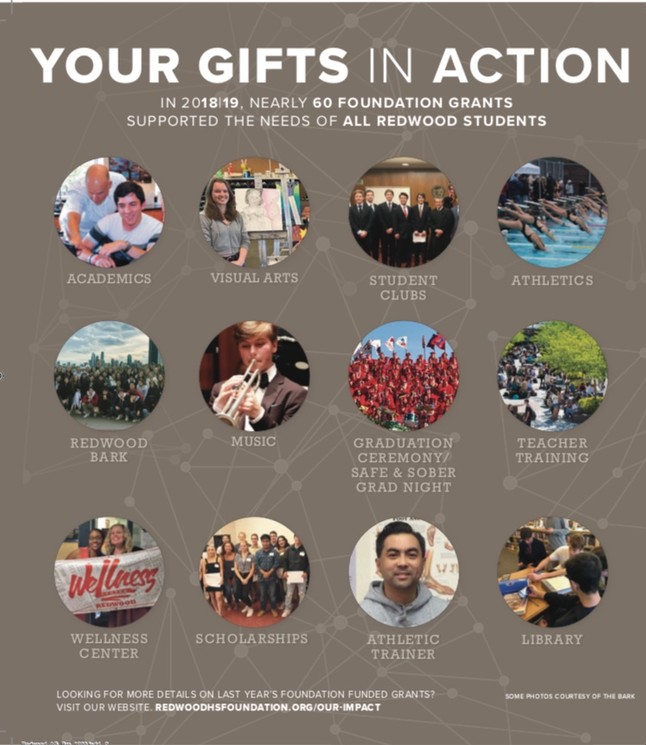 GIVE AS AN INDIVIDUAL or AS AN ALUMNI BUSINESS
All donors will be listed on the Alumni website and if you wish, your business can be listed on the Alumni website with a live link to your website or email address.

Alumni businesses who would like more exposure to the Redwood community can also become part of the Redwood Foundation Business Partnership Program More Information

Questions? Contact Ross Gondak or Marilee Rogers
OTHER WAYS TO GIVE BACK TO REDWOOD:
Legacy Bricks are a great way to support Redwood while leaving a lasting memory. Personalized inscribed bricks are a great way to honor upcoming graduates, salute future Giants or honor Redwood Alumni or Staff and are placed in the Lunch Plaza area. Click Here to order your Legacy Brick now for the 2018-19 School Year.
Donate to the ARCHIVES... Many of you are cleaning out closets and finding treasures from your days at Redwood. We would like them if you don't! Old scrapbooks, programs to sporting events and dramatic productions, photos, newspaper articles, yearbooks, Barks, uniforms...Redwood has established an archive in the Bess Chin Library, a safe place for your memories, and a place where students and reunions can access them. Please contact Karen Roby Barrett '63
Participate in the ALUMNI SPEAKER DAY.
Offer to VOLUNTEER at the school: supervising games, proctoring tests, guest lectures, beautification...
Join the ALUMNI COUNCIL and help plan Alumni Activities and improve communication!