Redwood High School Alumni
All Classes 1959 to present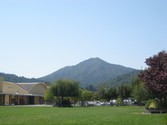 Athletic News
ALUMNI IN SPORTS NEWS
Congratulations Mike Firenzi '83 for 500 wins as Redwood baseball coach! https://www.marinij.com/2023/03/24/prep-baseball-firenzi-celebrates-redwoods-past-as-he-earns-500th-win/
Former Redwood High standout Kylie Horstmeyer scored a game-high 15 points to help the University of San Diego women's basketball team advance to the Super 16 of the NIT following a 58-48 win against UC Irvine on Monday.
Horstmeyer made six of her nine shot attempts, including a half-court shot to end the first half that gave the Toreros a 24-16 heading into the break.
Former Redwood High standout Kylie Horstmeyer scored a game-high 15 points to help the University of San Diego women's basketball team advance to the Super 16 of the NIT following a 58-48 win against UC Irvine on Monday.
Horstmeyer made six of her nine shot attempts, including a half-court shot to end the first half that gave the Toreros a 24-16 heading into the break.
Former Redwood High standout Kylie Horstmeyer scored a game-high 15 points to help the University of San Diego women's basketball team advance to the Super 16 of the NIT following a 58-48 win against UC Irvine on Monday.
Horstmeyer made six of her nine shot attempts, including a half-court shot to end the first half that gave the Toreros a 24-16 heading into the break.
Horstmeyer, who came off the bench and played 28 minutes, also pulled down five rebounds and blocked two shots.San Diego (19-13) is set to face Oregon in the Super 16 at 6 p.m. Thursday in Eugene, Ore.
For the season, Horstmeyer ranks fifth on the team in scoring at 5.5 points per game. Horstmeyer's 15 against UC Irvine represented a season high. Horstmeyer had previously scored 10 or more points in seven games this season.
Horstmeyer was named the MCAL Player of the Year during her junior season at Redwood High in 2020. Horstmeyer scored 19.8 points per game and averaged 11.7 rebounds to lead the Giants to a 24-5 record and an MCAL championship.
Redwood High grad Jenny Walker,'19 a senior forward at New York University, is a second-team selection to the College Sports Communicators Women's Basketball Division III Academic All-America squad.
Walker, a Media, Culture, and Communication major in NYU's Steinhardt School of Culture, Education, and Human Development, is one of eight recipients to maintain a perfect 4.0 GPA. She averaged 12.3 points, 6.4 rebounds, 1.1 blocks, 0.9 assists and 0.8 steals per game to help NYU claim its second straight UAA title.
The senior forward was also a Second Team All-UAA selection and UAA All-Academic honoree this year. Walker scored in double figures 16 times on the season, highlighted by a career-high 34 points with 10 rebounds, two blocks and two steals in a home win over Emory University on January 20. She ranked sixth in the Association in blocks per game, seventh in field-goal percentage (49.1), ninth in rebounding and 10th in scoring.
J. R. Hildebrand '06 Prepares for Indy 500
Mike Firenzi '83 Passes Coach Al Endrissto to become all-time winninst baseball coahc in Marin County history
JR Hildebrand '06 to race all the IndyCar ovals for AJ Foyt's racing
Jake Curhan '16 undrafted free agent makes 53 man roster with the Seattle Seahawks
Kylie Hortsmeyer '21 graduates early and takes her game to the next level
Jake Curhan '16 preparing for NFL draft
J R Hildebrand '06 to race at 24 hours of Daytona
Jake Curhan '16 to play in Reeses'sSenior Bowl
Jake Curhan '16 Gives players a voice in restarting Pac 12 Football
Jenny Walker "19 NYU Basketball interning with Voice in Sport
Pete Carroll '69 Named one of two NFLy Coaches of teh decade
Jake Curhan '16 Offensive lineman helps Cal Bears start season 4-0 and No. 15 ranational ranking
Nick Calzaretta '17 Redwood alumnus Nick Calzaretta earned his second- consecutive Frontier Conference Offensive Player of the Week award, the conference announced Monday. 9/10/19
Nick Calzaretta '17 Nick Calzaretta earned 247 rushing yards — the most rushing yards in the program's last 66 years — as College of Idaho toppled Montana Tech for its second win of the season, 28-14. 9/7/19
Laiura Schmitt '82 and Jake Schmitt '05 stepped down from coaching cross country and track and field read more
Tyler Peck '15 drafted by St Louis Cardinals in 28th round read more
Dempsey Roggenbuck '17 was leading scorer again for Linfield College Men's Basketball team, as a Freshman against George Fox University tonight 2/27/18.
Lief Carlson '17 has been named to US Rowing's U19 national team! Carlson, who helped Marin Rowing Association's men's team to a second-place finish at the Head of the Charles last October, will be a part of the 53-person team that will compete at the 2017 World Rowing Junior Championships, held Aug. 2-6 in Trakai, Lithuania. He will be part of the men's four team. Congratulations! 7.14.17
Ken Johnson '68 will speak to the "Old Time Athlete Dinner" on May 2. Marin IJ
The '77 Championship Baseball Team were honored at a recent Fundraiser for Redwood Baseball. They will be inducted into the Athletic Hall of Fame in 2018.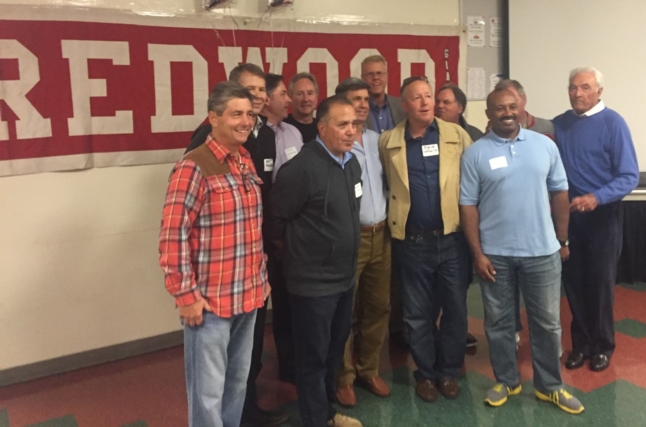 The Schmitt family: Laura Starrett '82, Jake '05, Megan '07 and Kaitlin '10 have raised running to a new level in Marin. Everyone in the family is involved with their latest adventure Thoroughbred Treadmill Studio in Mill Valley. It is the first all-running, all-treadmill facility on the West Coast, and one of only two in the United States. Read more in this wonderful article by Barry Spitz.
Chris Johnson '01 leads a cycling team that will be part of the first US team to race in Iran. "It's a real tough, challenging mountainous race. Not many Americans get a chance to visit (Iran) through sport." Read more
Kristin McKnight Moore '94 and brother Bill McKnight '92 were guest speakers at the MOTA (Marin Old Time Atheletes) dinner talking about thier careers in basketball. Read more.
Todd Leitz '81 has been hired by the LA Dodgers as the public address announcer at Dodger Stadium for the 2015 season. Read more.
Stan Buchanan is part of sports history as a member of the USF Dons 1955 basketball team winning the national title two years in a row. He was recently featured in a Comcast Sports Special along with USF team members Bill Russell, K.C. Jones, Mike Farmer and Eugene Brown. Video (3/2015)
Jake Anderson '10 has emerged as one of the top rugby players in the country, on one of the top teams in the country...Cal! He was selected as the college sevens player of the year in 2014. He has his sights set on participating in the World Cup or possible 2016 Olympics. Read more. (2/2015)
Pete Carroll '69, a member of our Athletic Hall of Fame, is leading the Seattle Seahawks in the Super Bowl Sunday, February 1 at 3pm on NBC. Great article in the New York Times about his roots in Marin County! Slide Show. (1/2015)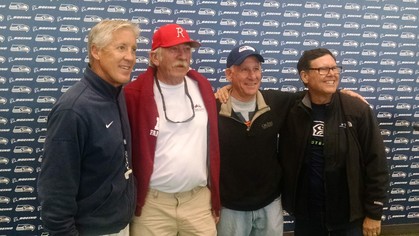 '69 Alumni visit Pete...Lou Larsen, Don Meyer and Henry Diaz
Cooper Helfet '07 is also a key member of the Seattle Seahawks team playing in Superbpwl #49. Redwood is well represented! Interview (1/2015)
Rod Berry ('78) and Dan Fouts make CIF Fall All-Centruy Team: "Hall of Fame NFL quarterback Dan Fouts and local running legend Rod Berry, both with Marin ties, were voted into the California Interscholastic Federation's 100th Anniversary Fall All-Century team. Fouts (St. Ignatius '69) grew up in San Rafael before moving to San Francisco. Berry competed at Stanford after a stellar prep career with the Giants that included an MCAL record, North Coast Section title and two second-place finishes at state in the two-mile." (Marin IJ 11.12.14)
The Marin County Athletic Foundation Hall of Fame announced their selections for the class of 2014 inductees today that include Russel Smith (1966) and Kirsten McKnight Moore (1994) . The induction banquet was held at Embassy Suites in San Rafael on November 1.
Lon McEachern ('75) From Extreme Sports to the World Series of Poker, Lon has been a co-host for ESPN for more than a decade: As ESPN's World Series of Poker commentator Norman Chad jokingly says about his co-host — Redwood High grad Lon McEachern — "he could do play-by-play of a traffic light. See full article at the following link: (Aug. 2014) Read more
Alumni Coaches Give Back in 2014: Redwood Alumni Conor Flaherty '05 and Lou Larsen '69 paired up to coach the 2013-2014 RHS Frosh basketball team to the third undefeated season in Frosh history. They won all 24 games by an average margin of 22 points to take the league title. Previous undefeated Frosh teams were 2005-6 coached by Alum Skip Corsini '69 and the 1974-1975 Frosh team. Film at 11:00. (July 2014)
Jake Schmitt '05 and his mother Laura Starrett Schmitt '82 turned their passion for running into a local running club, the Thoroughbred Track Club www.thoroughbredtc.com. It will offer year-round running and track classes for kids (5th-8th grade) and adults. they hope to make it into a Bay Area running hub and draw elite runners from around the county. Read more.
Fred Huxman '14 Congratulations to our newest alum Fred Huxman '14 who made Marin County history with the state track title in the 3,200 on Saturday, June 7! Marin IJ
Pete Carroll '69 is riding high after his Super Bowl Victory on February 2. You can read about his success in just about any newspaper or online! Another Redwood graduate Cooper Helfet '07 has played an important role in the training camp for the Seattle Seahawks. Read more.
Buddy Biancalana '78 is the former Kansas City Royals shortstop (World Series 2014) who worked with Pacifics pitcher J.J. Whetsel on Tuesday, July 30, 2013 at Albert Park in San Rafael, Calif. Biancalana is the co-founder of the PMPM Sports-Zone Training and co-autheor of The 7 Secrets of World Class Athletes. read more in the Marin IJ Read more.
JR Hildebrand '06 When the IndyCar series returns to Sonoma Raceway every year, it's always a homecoming of sorts for former Sausalito resident JR Hildebrand who now calls Indianapolis home. That concept applies double the weekend of Aug. 23-25, because not only will he be returning home, he'll be returning to the series for the first time since his early crash at the Indy 500.website.

Keegan Dresow '02 who played for Redwood High School, is the head coach of the semi-pro Avedore Monarchs, part of the 23-year-old Danish American Football Federation, and also coaches the club's youth programs. The federation's top teams compete in a five-month season that leads to a national title game, the Mermaid Bowl. Read more.
Tommy Pastalka '08 is a crew member of the recently formed American Youth Sailing Force team (AYSF), which has been selected by Oracle Racing to represent San Francisco in the Red Bull Series. The event will take place this summer between the Louis Vuitton Challenger Series and the America's Cup on the bay. Read more.
Graham Willoughby '97 and Sandy Armstrong (Coaches) of the Marin Rowing Association were both asked last month to coach the nation's best young rowers at this summer's world championships. Armstrong will be an assistant coach for the Junior Women's National Team in London, and Willoughby the head coach of the Junior Men's High Performance Team in Germany, comprising those who will travel abroad to row but will not officially compete.

Megan Schmitt '07 and Ted Jones '07 have led their respective CAL teams to victory. Megan was part of the Volleyball team that made it to the National finals, losing against Penn after a terrific season. Ted is leading the victorious men's soccer team. Both credit Redwood academics and athletics for preparing them for Cal.
Andy Lewis '04 For the past six years he has focused his energy on an emerging sport known as "slacklining," and he has developed an international reputation for risking his life as he pushes the sport to new extremes. In 2008, Lewis won the Slackline Masters International Competition in Ft. William, Scotland, which included a prize of about $1,000. Earlier this month he was declared the winner of the Gibbon Slackline World Cup, a three-part contest in Munich and Friedrichshafen, Germany and Brixen, Italy. The final World Cup prize was a scooter worth about $5,300.
REDWOOD and the MARIN ATHLETIC FOUNDATION HALL OF FAME

Did you know that 28 Redwood athletes and coaches have been inducted into the Marin Athletic Foundation Hall of Fame since it began in 1989? The MAF Hall of fame recognizes and honors athletes who distinguished themselves in Marin County high school sports. It also gives recognition to coaches and others who made significant contributions to high school athletics in Marin County. Below is a list of their names, year inducted, and graduation year. Many of these athletes were involved in multiple sports. For more details, go to the Marin Athletic Foundation website.

1989 Dick Hart Basketball Coach
Bob Troppmann Football Coach
1990 Jim Peters '69
1992 Nanci Kosta '70
1993 Butch Brear '61
Mike Hoffman '61
Jerry Piro '70
Mike Connor '73
1994 Darrell Elder '74
1995 John Boro '70
Al Endriss Baseball Coach
1996 Ken Johnson '68
Steve McGee '72
1997 Curt Embrey '59
1998 Rod Berry '78
Jim Connor '77
1999 Doug Basham Track/Cross Country Coach
2000 Caren Choppellas Horstmeyer '80
Stanlee Buchannan Tennis Coach
2001 Beth Fernbacher '77
Dan Young '72
2002 Buddy Biancalana '78
2004 Todd Brockman '83
2005 Jodie Wertz '85
2006 Tom Lyons Track Coach
2007 Chad Krueter '83
2008 Mark Fiorito '86
2009 Laura Schmitt '82
2011 Patty Gibian Monge '84
Tom Wickert '70
Carrie Zarraonandia Tennis Coach
Sue Chelini Special Recognition
2012 Mickey Meister '79
2014 Russ Smith '66 , Kirsten McKnight Moore '94
last updated 8.28.14