Redwood High School Alumni
All Classes 1959 to present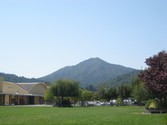 Alumni News
Keep up to date with alumni on this page. If you or your classmates are doing something interesting or important, send Information and links to info@redwoodalumni.org and we will share it here.
Recent news about some of our grads:
Redwood High School graduates and brother-and-sister duo Toby Louie '02 and Jenna Louie Lohouse '99 are making their return to Marin this week — on the big screen. The film "Who Are You People," produced by Toby Louie and starring Jenna Louie Lohouse as a potential love interest to one of the main characters, as well as Alyssa Milano, Devon Sawa and Ema Horvath, is being screened Thursday in Tiburon.
Meredith Pike-Baky '66: Her Tales of Togo: A Young Woman's Search for Home in West Africa was recently featured in a special edition of WorldView, the National Peace Corps Association's magazine. Tales of Togo gives a personal account of former President Kennedy's call to "ask what you can do for your country" and political events in the early 1970s. It is available on Bookshop.org or Amazon.com. The book is reviewed at: https://www.peacecorpsconnect.org/articles/meredith-pike-baky-tales-of-togo-a-young-womans-search-for-home-in-west-africa.
Chris Tognotti '04 has found his niche with his love of Marin history and jazz. Read More
Nick Lopez '14 has had great success with his mega hit "Pink Champagne." He got his first break with the IJ's Lobby Lounge. Read more

Peter Cline '17 Started Boots to Books helping military veterans transition to civilian life Read more
Aaron Halford '16 article form Marin IJ on his musical career read more
Rachel Kimball '19 and Jackson Bender '19 College students staying at home in Marin started a home business tutoring K-12 students read more
Tim Falvey '73 and Conor Flaherty '05 on effects on their busnesses during shelter in place order
Melissa Blaustein '06 is making a difference in her community and beyond. She founded Allied for Startups, a global network of startups, entrepreneurs, venture capitalists and advocacy groups to build consensus on public policy issues affecting new businesses. And she just swam the English Channel. Marin Magazine 4.2019
Sean Saylor '86 and his wife Sonja of Saylor's Restaurant has been recognized as a recipient of the 2018 Spirit of Marin Awards as the Business of the Year Sausalito Chamber as chosen by the Marin County Chambers of Commerce. 9.2018
Geneva Gondak '14 just rode her bike back from college. Geneva Gondak arrived in Seaside, Oregon on Aug. 11 after a 4,000-mile cross-country ride from Yorktown, Virginia. The Corte Madera native and 2013-14 Redwood class president spent the spring not only graduating magna cum laude from the University of Pennsylvania but also found time to do 600 training miles for the ride to support affordable housing.
The nonprofit Bike and Build organized the Central U.S. team of 24 riders who each raised at least $5,000 to ride 70 miles a day for 10 weeks. The riders took only one holiday (sightseeing in Yellowstone) and spent 14 "build" days to help construct new housing along the way. The riders slept in gyms, churches and community centers in the 70 communities they visited along the way. Marin IJ 9.3.18
Josh Reeves '01, CEO and Co-founder of Gusto, is making headlines with his no shoes policy in his new office space at Pier 70 in San Francisco. SFChron 5.10.18
Grace Ahlbom '12 was recognized for her photography of young boys and skateboarders by the New York TImes. Marin IJ Article 7.17.17
Mattias Gafni '93 is one of the East Bay Times writers who recently won the Pulitzer Prize for his coverage of the Ghost Ship Fire in Oakland at the end of 2016. Marin IJ Article 4.10.17
Cliff Weitzman '11 has been selected by Forbes "30 Under 30" in the field of Education for his software program "Speecify" which helps people with reading disorders and difficulties. Forbes Article
Tiffany Shlain '88 has produced a new documentary on women's fight for justice. Emmy-nominated filmmaker Tiffany Shlain's new documentary, "50/50: The Past, Present & Future of Women + Power," was inspired by this question: How many women have been elected presidents and prime ministers throughout the world? Marin IJ 11.27.16
Megan Buquen '00 toghether with her friend, have established a matchmaking service for men of means called Executive Matchmakers. Memberships begin at $15,000 and there's a waitng list! Most clients are professionals from Marin County. 8.31 Read more
Steve Fainaru '80 and Mark Fainaru-Wada '83 continue to work together for ESPN and investigative journalism in the sports world. The Marin IJ recently published a very nice interview with them: 8.31 Interview
Christine Cavanaugh Paquette '88 took over as executive director of the St. Vincent de Paul Society of Marin County at the end of 2013 after serving as the nonprofit's director of development for nine years. She has been working with the homeless in San Rafael and made a large difference in their lives. Great feature about her work in the Marin IJ. 4.10.16
Lockwood Barr '08 has been accepted into the CMA (Country Music Association) and selected as an emerging artist on the Nashville scene. She is a singer, songwriter and banjo plucker about to release her second album. Read Paul Liberatore's Marin IJ article about her. 12/18/15
Kristin (Kris) Delaplane '61 has just had two books published...Storytelling: How to Write an Inspiring Memoir, Oral History or Family Geneology; and First to Die: The Tragic Loss of the SS Vestris! Kristin's workshops on oral history methods and capturing family stories have been featured with the University of California, colleges, high schools, museums, historical societies, and private organizations.She was once the inquiring photographer columnist for the San Francisco Chronicle: "Question Man by Conti." Years of interviewing led to her oral history work and these recent publications. www.ouramericanstories.com
Rebecca Burgess '96, the author of Harvesting Color, has been recently featured in the Chronicle for her work with Fibershed, an organization she founded to bring together famrers, ranchers, weavers, artists, scientists and politicians. Her goal is to "grow your own jeans." She is a leader in the "farm to fiber" movement, attempting to reduce the carbon footprint in fiber and textile production. Visit Fibershed.com and read recent article on her work in the Marin IJ. and San Francisco Chronicle.
Cigall Kadoch '03 has been named one the 35 Innovators under 35 by MIT Technology Review of 2015. She was Forbes Magazine's 2014 "30 Under 30" for her work in Science and Health Care. She is Assistant Professor of Pediatric Oncology, Dana-Farber Cancer Institute. How genes are read by the cells in our bodies depends in part on their physical structure. Kadoch studies how changes in that physical structure -- caused by mutations in yet other genes – can lead to a particular cancer, synovial sarcoma, a rare soft-tissue malignancy. This work has implications for many cancer types and could eventually lead to new cancer treatments. 8/15
Jack Bushell '14 and Alex Herz '15 are producing a documentary film of Simon Dominguez's epic swim in the cold, shark infested waters from the Golden Gate Bridge to the islands this week(July 2015). Marin IJ
Charles (Charlie) Dressow '99 was spotlighted in the Marin IJ for his successful work as a Defense Attorney. He recently represented Max Wade (charged with stealing a Lamborghini Gallardo Spyder owned by celebrity chef Guy Fieri and other charges including attempted murder, burglary, and related crimes) and Dr. James Simon of Tiburon involved in a road rage accident.
Michael Schwartz '02 is directing this season's Mountain Play ... Peter Pan. Schwartz studied theater and film at the University of Southern California. For the past eight years, he has lived in New York, directing on Broadway, Lincoln Center and the Old Vic in London. His focus has been large-scale theatrical productions, perfect training for the big outdoor spectacles Mountain Play audiences have come to expect. Read more.
The band "Waters" featuring RHS alumni Brian DaMert '04, Greg Sellin '05 and Sarah DaMert '07 were featured on the Conan Obrian show April 1st. No fooling, check them out..
Martha Olney '74 has received the Universit of California's award for Outstanding Mentorship of GSIs. 4-15
Joshua Reeves '01 is the CEO & Co-Founder of ZenPayroll (www.zenpayroll.com), a Silicon Valley start-up on a mission to deliver delightful, modern payroll to businesses everywhere. ZenPayroll launched in 2012 and includes among its investors the CEOs of Dropbox, Yelp, Yammer, and Box, as well as Google Ventures and Salesforce (ZenPayroll investors). He was recently selected to the 2012 Forbes 30 Under 30 list. His start up raised $60 million to expand it's reach. NY Times Article 4-15
Emily Pilloton '99 has been named the Educational Entrepreneur of the Year by the International Academy for Educational Entrepreneurship. She founded the noprofit design firm Project H to use creative capital to improve public education. www.projecthdesign.org 2.15
Annie Ford Danielson '04 and her sister Maggie Ford Danielson operate the international company founded by their mother and Aunt, Benefit Cosmetics. The headquarters on Bush Street is "Beauty Central" with offices in Paris, Dubai, Singapore, Mexico City and London. Recent article.
Julie Lang Bunzel '87 studied the harp at the San Francisco Conservatory of Music, and later at the University of Michigan. Now living in Israel, Bunzel is a frequent performer with the Israel Philharmonic Orchestra. Her solo performances have included concertos by Israeli composer Ami Maayani as well as Debussy and Ravel. Recent Article . 2.15
Amber Lent Kelleher-Andrews '87 is a relationship matchmaker. She is the co-founder of Kelleher International, one of the larges matchmaking firms in the country and is a relationship consultant on TV programs including Good Moring America, the Today Show and 20/20. 2.15
Jason Lewis '87 is the founder of Marin Nostalgia. He is all things Marin and Redwood and is a great source for history, photos, videos, etc. Check out his site: Marinnostalgia.org. 2.15
Mark Tamayo '92 is the KTVU-TV Channel 2 meteorologist. He earned the North California Area EMMY Award for best weather reporting in 2009 and 2010. 2.15
Emily Pilloton '99 is the focus of a new documentary "If You Build It" about her work as an architect and teacher in Oakland. The Documentary follows her year spent teaching an experimental design workshop to high school juniours in one of North Carlolina's poorest Counties. The course was an offshoot of her nonprofit Project H, a hybrid design firm/advocacy group she founded in 2008 to promote and teach socially engaged design. Read more.
Angela Charlton '89, fluent in Russian, covered the Sochi Olympics for Associated Press. She currently is bureay chief in Paris, France where she oversees 15 reporters in most of the French speaking countries.
Gunnar Carlson '69 recently co-founded Ayasdi Inc., a Palo Alto based start up. Ayasdi is the first company to come out of Stanford's math department, and it just received $10 million in funding from Khosla Ventures and Floodgate. It builds software that takes a complex branch of mathematics known as topology-the study of how shapes interact with space-and applies it to large volumes of data. Read more.
Laurice Compagno Levine '90 Thalassemia Outreach Coordinator at Children's Hospital in Oakland,has received the Italian Catholic Federation's prestigious Pope John XXIII Award. It is the highest award bestowed by the ICF to a lay person of any denomiation who exemplifies humanitarian service to society.(Previous winners include the late comedian, Danny Thomas of St. Judes Hospital and Mimi Sibert of Delancy Street.
Greg Behrendt '81 recently appeared at the San Francisco Sketchfest Festival. He is a stand up comedian and author of He's Not Just In to YOu which was adapted in to a movie with Drew Barrymore. He was a script consultant for the HBO hit Sex in the City. His website gregbehrendt.com will tell you more and let you know when he will next be in town.
Denise Costello Hurley '02 and her husband Vasia have developed a multicultural volunteeer network and founded Bright Connections, a nonprofit dedicated to helping Russian orphans. If you want more information or wich to donate visit: http://brightconnectionsinternational.org.
Doug Woodring '84 Douglas Woodring is the Co-Founder and Managing Director of Ocean Recovery Alliance. He is an environmental entrepreneur, a writer, a competitive athlete, a sports event organizer and a creative innovator on community issues. He is the co-founder of Ocean Recovery Alliance, a non-profit organization which is focused on bringing innovative solutions, technology, collaborations and policy together to impact positive improvements for the health of the ocean.
Jamie Goldberg '08 has won this year's White House Correspondents' Association scholarship and was invited to attend the special dinner in Washington, DC with Barak and Michelle Obama. She earned $5000 for the award, given for political reporting.
Andy Lewis '04 has become a well-known figure in slacklining, performing with Madonna before millions of people at halftime during the Super Bowl. He is known as something of a pioneer for the young sport, which at its most basic is the act of balancing along a narrow, flexible piece of webbing low to the ground and usually anchored between two trees. Watch him in action.

Tom Malvino '72 has been selected as Businessman of the Year, receiving the "Spirit of Marin" award this September. The Bank of Marin is hosting the ceremony at St. Vincent's School in San Rafael. Tom is a member of the Corte Madera Chamber of Commerce and owner of Louis George Men's Clothing Store in the Town Center.
Eric Schmitt '78 has just published a book on counter-terrorism: "Counterstrike: The Untold Story of America's Secret Campaign Against Al Qaeda" Read more.

Matt Doyle '05 is thriving in the world of theater and TV. He was in the original cast of Spring Awakening on Broadway and had had some appearance on the Gossip Girl TV Series. Effective November 27, 2012, Matt joined The Book of Mormon on Broadway in the role of Elder Price.You can see him on YouTube.
Shoshanna Bush '06 is another successful Redwood drama student with parts in CSI:Miami, Ghost Whisperer and Dance Flick. You can see her also on YouTube.
John Weil '62 has created The Daily Geezer, a website of cool activities for those over 65 in the Bay Area. You may not be there yet, but if you have to entertain your parents, grand parents, check out the DailyGeezer.com.
Chris Detrick '01 has always loved music. He caught the rock 'n' roll bug in sixth grade and by the time he was at Redwood he was "always scheming to be in a band." He started the San Rafael–based MY AMP (Marin Youth Accelerated Music Program) in 2007 after years of being an instructor at the Oakland branch of the rock school BandWorks. Read more.
Lise Saffron '82 has just published her first novel. She recently spoke to a group of old friends and local enthusiasts at the Book Passage in Larkspur. She is a graduate of the Iowa Writers' Workshop, where she was an Iowa Arts Fellow. Her short fiction has appeared in a variety of literary magazines. She lives in Columbia, Missouri, with her husband and two sons. Read more.
Andrei Gorchov '99 is Administrator of the Marin Symphony Youth Program as well as the associate conductor of the youth orchestra. He is active teaching and performing as a flute soloist in the Bay Area.
Sue Hall '76 has been working as a DJ for over 30 years in the San Francisco Bay Area. She's had stints with KOIT, KGO, KFRC and KMEL not only introducing music but reporting news and traffic. She'd really like to see the "classic-hits format (heavy on the '60s and '70s music) succeed. Read more.
Marcia Pizzo '78 continues to pursue her dream of acting. Getting her start on the Redwood stage, she has performed with ACT, local theater groups and made several movies. Currently she is receiving rave reviews as the bewitching Cleopatra with the Marin Shakespeare Festival.
David Strathairn '66 recentlyl won an Emmy for best supporting actor in a made for TV move Temple Grandin. He was also nominated for an Oscar in 2006 as best actor in Good Night and Good Luck, playing the role of Edward R. Murrow. Currently he is making an HBO movie about Ernest Hemmingway in San Francisco. He receives critical acclaim for all of his performances. Read more.
Jim Rogers '67 was listed as one of the most prestigious Scouts a recent special section of the Marin IJ devoted to 100 Years of Scouting. Jim, CEO of Kampgrounds of America (KOA) was saluted along with Neil Armstrong, Michael Bloomberg, Michael Moore, and Stephen Speilberg. Read more and more.
Brad Breithaupt '71 has been recognized by the California Newspaper Publishers Association as one of the "best in California" for his award-winning opinion pages in the Marin IJ. To read his columns go to MarinIJ.com.
Ghazaleh Khalifeh '04 is making her way in the fashion world. She is the recipient of a French exchange scholarship to study at the Ecole de la Chambre Syndicale de la Couture Parisienne, one of the top fashion schools in Paris. Maybe she'll be the next Project Runway star. Read more.
Marc Hershon '76 and Jonathan Littman '76 have teamed up to write a book titled "I Hate People." Both grad reconnected in Sausalito and have combined their talents to produce this book about the "negative stuff you have to deal with" inside companies. Read more.
Jim Clark '75 went to Haiti after the earthquake on a humanitarian mission. He has been with the Larkspur Fire Department for 33 years and is currently a Captain. He and Captain Matt Cobb are members of the Marin County Urban Search and Rescue team who took off on their own to help those traumatized by the quake. Read more.
Page Hodel '73, a local DJ, has published a book dedicated to her neighbor Madalene Rodriguez who died at 46 of ovarian cancer. "Monday Hearts for Madalene" contains photographs of 100 hearts that Hodel made, whimsical and ingenious, and full of life. The Chronicle shared her story in February. Read more.
Dr. Don Francis '60, one of our Distinguished Alumni, is a Bay Area scientist who has been recently recognized for his work on a new vaccine that showed the first partial success in preventing AIDS infection. He is a co-founder of Global Solutions for Infectious Diseases, the South San Francisco nonprofit that contributed half of the double-acting vaccine that proved 31 percent effective in preventing AIDS infections in a 16,000-person clinical trial in Thailand. Read more.
Suzi Eszterhas '84 has roamed the globe in search of photogenic fauna. She has been to an East African bush camp and visited an Antarctic ice floe where she photographed a proud penguin for the cover of Time. All this adventure was just to capture great animal images. Her images have appeared in an impressive roster of magazines, including Smithsonian, Audubon, BBC Wildlife, Scientific American, National Geographic Kids and Ranger Rick. In 2008, Eszterhas was named Ranger Rick's first photographer of the year. Read more.
Dina Temple-Raston '82, a 2009 inductee into the Avenue of Giants, is the Counterterrorism Correspondent for NPR. She most recently published a book called The Jihad Next Door (Public Affairs), about the Lackawanna Six, America's first so-called "sleeper cell" and the issues that face Muslims in America. Read more.
ALUMNI IN SPORTS NEWS is on the Athletic News page.
Last updated 6.21.2015