Redwood High School Alumni
All Classes 1959 to present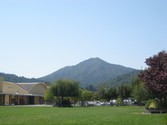 Shippey Vineyards

Hi. We are Matt and Tim Shippey (Class of '70) and we own and operate a small micro-winery (less than 1000 cases/year) in Healdsburg, California. We feature zinfandel and petite Sirah from our estate vineyards at the base of Bradford Mountain on the west side of Dry Creek Valley. We make big bold red wines because that is what the grapes give us. Our motto is "Life is too short for bad wines", so if you like big reds send your name and email address to Matt@Shippeyvineyards.com and we will put you on our list for special offers and events. Our 2014 Zinfandel just won a Gold Medal at the 2022 Sonoma County Harvest Fair and we are having a celebration sale at $20/bottle or $240/case (plus tax and shipping). If you're interested let us know at Matt@Shippeyvineyards.com. Go Giants!
PHILOSOPHY
As grape farmers who live in Sonoma County, we think of our wines as FOOD - a food that comes from our vineyard to your table. We spend much more time in our vineyards growing the best grapes possible than we do in the winery making the wine. We firmly believe that "the grapes make the wine." We like to say you can make a bad wine out of good grapes but you cannot make a great wine out of bad grapes. With our single vineyard varietals, the Rocking Z Zinfandel and Flaming J Petite Sirah, there are no winemaking or blending"tricks" we can use to make the wine taste differently than what the grapes give us. Each vintage has its own unique character and is never exactly the same as a prior vintage.
Because we are so small (under 1000 cases per year) our wines are limited production individually handcrafted artisanal foods, each with its own distinct character. These are not wines you can find on the shelf of your local supermarket. These are not wines that are made to taste the same year after year and bottle after bottle like the giant wineries make. Our wines are hand-crafted small lot wines, each with an individual and distinctive "voice" that speaks to its unique vineyard location, heritage, and cultivation. You may not like our wines. They do not appeal to everyone and we do not try to appeal to everyone. If you are one of those people looking for sustainably grown artisanal small production handmade wines THAT TASTE GOOD, then please give us a try.