Redwood High School Alumni
All Classes 1959 to present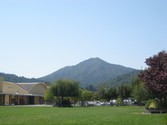 Teacher & Staff News
FACULTY and STAFF NEWS
This page will focus on retired staff and their adventures in retirement. If you have information to submit, please send it to info@redwoodalumni.org.
SID GORDON was celebrated on his 95th birthday with a wonderful article in the Santa Rosa Press Democrat. Enjoy! Bandleader Keeps the Music Going
RUSSELL HILL, former English teacher at Redwood and Tam, has published seven books since his retirement and has received an Edgar Allan Poe nomination for a new novel, The Lord God Bird, the second nomination in three years. His most recent book is titled Egret.
STEVE BAKER taught at US History at Redwood in the '70s. He eventually moved to Alturas to raise his family and create his Hide-a-way, complete with train, blacksmith shop, general store, schoolhouse and more. Each building is filled with antiques that he has collected over the years from jukeboxes and old maps to spice cans, barber's chairs and coke machines. Read more about his paradise in this article.7/16
STANLEE BUCHANAN is part of sports history as a member of the USF Dons 1955 basketball team winning the national title two years in a row. He was featured in a 2015 Comcast Special along with team members Bill Russell, K.C. Jones, Mike Farmer and Eugene Brown. Video
THE TUESDAY MORNING BREAKFAST GROUP continues to meet on the first and third Tuesdays at 9 am at the Half Day Cafe in Kentfield although the group is getting smaller. The regulars are Jack Hartnett, Donal Brown, Stanlee Buchanan, Glen Dickey, and Charlie Shultz, who are often joined by Stan Cooper, Don Shaver and Marilee Rogers. Lots of stories and lots of laughs. Come on by! Sadly, in 2020-2021 we have lost some of the original members of the Tuesday Morning Breakfast Club: Ray Jacques, Doug Basham, Mike Collins and Charlie Feeney,
WILLIAM (BILL) WILKINSON (deceased 2021) published a book titled TESTIMONIOS DE FLORENCIO SERRANO: ALTA CALIFORNIA REMEMBERED, 1834-1850. Florencio Serrano was a member of the Híjar-Pádres colony that was formed in 1834 in Mexico and was sent to California to establish a settlement in what is the present day Santa Rosa area.
Bill received permission from the Bancroft library to translate and publish the three separate Testimonios left by Florencio Serrano. It is available on Amazon.com
ALUMNI ON CAMPUS Did you know that eight Redwood Alumni are currently on the Redwood staff? Laura Leones '94 is a teacher of Special Education, Jon Hirsch '94, Lindsey Kornfeld '04 and Taber Watson '10 in the Social Studies Department, Melissa Boles '93 and Amy Mastromonaco '05 teach Science, and Allison Kristal '98 and Karen Murk '82 are in the Math Department. Other alumni in the Tam district include Brian Zailian '76 (French), Chris Erlin '85 (Math) and Laura Garrett '92 (Social Studies) at Tam.
DUNCAN MACSWAIN (Redwood 1963-95) continues to monitor the southern Thailand tsunami project he has been administering since 2004. Ninety-one individuals, 23 couples and nine schools and organizations contributed nearly $20,000 to the project. Monies had been placed in a trust account and then distributed as needed.
It's no surprise that Redwood provided the bulk of contributions to this meaningful project. Current Redwood faculty and staff gave $4129 to the project. Individual retired and present Redwood teachers contributed an additional $2758.
Contact Duncan (Dmacs1@comcast.net) if you would like updates and/or additional information.