Redwood High School Alumni
All Classes 1959 to present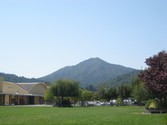 l
Like us on Facebook Redwood Lip Dub 2023
WELCOME TO ANOTHER SCHOOL YEAR!
One of the favorite memories of our time at Redwood is the view of Mt.Tamalpais, whether sitting on the lawn, walking to class or daydreaming out one of the windows! It's one landmark that never seems to change. Redwood opened 65 years ago to its first students in 1958. There are now over 25,000 alumni Giants making a difference in the world. And you are one of them! If you haven't joined our www.redwoodalumni.org website, now is the time. Just go to the top right hand corner, find you class and your name. All we need is a good email! Stay connected and make it easier for your classmates to locate you for your next reunion. Have a great school year! GO GIANTS!
AVENUE OF GIANTS and ATHLETIC HALL OF FAME NOMINATIONS ARE DUE! Nominations are due October 1, 2023 for the next cycle (2024) of Avenue of Giants and Athletic Hall of Fame Inductees. Both selection committees are accepting new nominations. SAVE THE DATE: Friday, March 8, 2024 for the next Avenue of Giants Banquet and Speaker Day recognizing 2023 and 2024 Inductees, and a few others who were unable to attend during Covid. For nomination forms and more information: Avenue of Giants: Redwood Athletic Hall of Fame
REUNIONS ARE HAPPENING... CHECK OUR REUNION PAGE FOR DETAILS:
Class of '63 (60th) ... Saturday, September 23 at Bungalow Kitchen (formerly Guymas in Tiburon Details and payment: Class of '63 Reunion Page Class Contacts: Nancy Nelson Altman Website: www.redwood63.com
Class of '73 (50th) ... September 23, 2023 at Black Steer (formerly Rickeys!) Venue and Payment details: Class of '73 Reunion page Contacts: Steve Spicer, Patty Stahl, Lauren (Dowling) Keith, Holly Watts,Tina Watson Michel, Diane Fernbacher Facebook Class of '73
Class of '83 (40th) Saturday, October 21, 2023 Venue: Embassy Suites by Hilton, San Rafael Class of '83 Reunion Page Class Contacts: Sally Steele, Monty Stephens, Jennifer DeBonis Facebook: Redwood Class of 1983
Class of '93 (30th). Saturday, October 21, 2023 Venue: Sam's Anchor Cafe, Tiburon at 6 pm.Sign Up Now! Class Contacts: Mike Glover, Dani Dabbah Facebook Class of 1993 Email Contact: redwoodclassof93@gmail.com
Class of '03 (20th) ... Saturday, November 4, 2023 Venue: Sam's Anchor Cafe Tiburon Contact jeremy.d.schwartz07@gmail.com
Class of '13 (10th) ... Saturday, November 25, 2023 Class contacts: Megan Daly: meganannedaly@gmail.com Celeste Carswell: celeste.carswell@me.com
Class of '14 (10th). Date TBD, November 2024 Class Contacts: Christina Canady, Geneva Gondak
If you would like help planning reunions for your class or have information about your reunion, please contact us. 2024 REUNIONS... Classes of '64, '74. '84, '94, '04, and '14, might want to form committees with class officers or other interested parties. You can reach us at reunions@redwoodalumni.org and we can help you get started and send you the class database, and post your information! More DETAILS ON REUNION PAGE
ALUMNI RED PAGES... CLICK HERE
Please support small businesses and services, especially Alumni businesses! If you would like to be listed, please contact Ted Wray at jtedwray@gmail.com or info@redwoodalumni.org We will list your name, grad year, and a link to your website, email, or phone. Be sure to mention Redwood Alumni Red Pages when you do business.
AUGUST, SEPTEMBER & OCTOBER SPOTLIGHT
SAYLOR'S RESTAURANT AND BAR
Sean Saylor '86 & Sonja Jahnsen Saylor '81
saylorsrestaurantandbar.com 415-332-1512 2009 Bridgeway, Sausalito, CA 94965



Saylor's is a family affair. We have been in Marin for decades, first with Saylor's Landing and now with Saylor's Restaurant & Bar. Sonja takes care of the operational side of the restaurant while Sean in all about the food, and the face you will likely see when walking in the door. Sean craved his own space where he and Sonja could create their own unique style. Sean's kitchen is a reflection of his personality, combining food and atmosphere to offer guests a one-of-a-kind Cabo dining experience in Marin.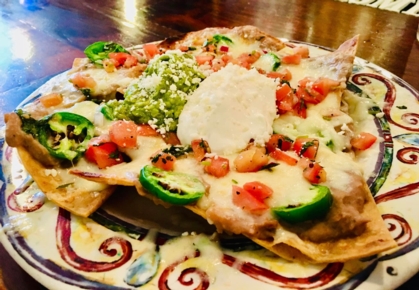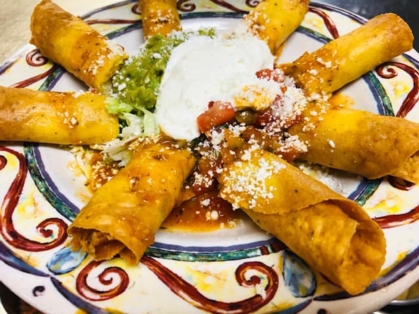 SUPPORTING ALUMNI ...
Diane Levine '78, the VroomVroom Girl, Invites you to the Corte Madera Car Show Saturday, September 9! Details Here.
Anderson Pugash '04 Sound meditation for the autumn equinox on Sept 22 and a grief sound ceremony at the marin arts and garden center on Nov 11.
Pete Hale '78 and his band The Hots: Tam Commons in SR Friday, Sept. 22
At Mac's in Fairfax, Oct. 13
And as Pete Floyd at Sebastiani Theater, Sonoma Oct. 6
A BIT OF REDWOOD HISTORY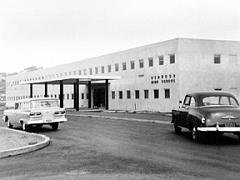 Redwood west facade and main entrance 1958- love those cars!
(On the left is a brand new '58 ford 2 door station wagon. Right is a '51 chev. two door, Styline, Special. -This is the low end model with less chrome trim and rubber stone guards.-The way it's parked makes me wonder if it's the photographer's car- possibly from the district motor pool.) Jim Bays '65 In case you missed this in the last newsletter, we'd like to share it again n recognition of Redwood's 65th year. The recent discovery of a copy of the 16mm film was made during the construction of Redwood High School. The original 16mm film and DVD copy are in the Principal's office safe room. In the link below, you can see the first Principal Don Kreps and Superintendent Chet Carlisle supervising the construction. Pay special attention to the tiling process, meant to last a lifetime! Dick Hart, Basketball Coach in red jacket, and the first Assistant Principals Emmy Wulzen and Jack Baat stroll the allmost finished campus. It's hard to believe that I was among that first group of students... yes... that's what it looked like in the late 50s! Link to Redwood Construction
THANK YOU REDWOOD ALUMNI!.
We raised enough money to give three Alumni Scholarships in 2023 to very deserving students. In recognition of their privacy, we can no longer share details but believe me, these students are amazing, not only in over coming the challenges they faced but in excelling in their academic and leadership skills.
Many of the Scholarship contributions were donated to honor staff, classmates and family members. We received donations in honor of recently deceased staff members Duncan MacSwain, Phil Roark, Charlie Feeney, Tino Lavezzo and Sallie Ward. Gordon Van Zee, Glenda Gentry and "the amazing Mr. Medogovich" also received recognition and are still with us. Miriam Jobrani '86, Rick Sims '61 and Sandy Minutoli Weitzel '63 received memorial tributes. A generous donation in honor of Gary Kuhn '75 was made. Lou Larson '69 and Polly Conner were also recognized. Thank you again for your generosity! Donor List
You can always make a donation for next year!
DONATE NOW ONLINE through the Redwood Foundation
or by check using the ALUMNI SCHOLARSHIP FORM
Mail **check made out to Redwood Foundation/Alumni to:
Redwood Foundation
c/o Redwood High School
395 Doherty Drive, Larkspur CA 94939
GIVE AS AN INDIVIDUAL or AS AN ALUMNI BUSINESS
All donors will be listed on the Alumni website and if you wish, your business can be listed on the Alumni website with a live link to your website or email address.

Alumni businesses who would like more exposure to the Redwood community can also become part of the Redwood High School Foundation Community Partner Program.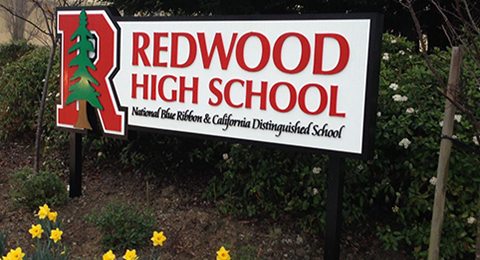 OTHER WAYS TO GIVE BACK TO REDWOOD...
The Redwood High School Foundation raises $1.2M in funds annually to support excellence in the robust and diverse programs offered in Academics, Arts and Athletics. In addition, the Foundation works collaboratively with the Redwood Alumni Association to support alumni programs including the Athletic Hall of Fame and Avenue of Giants. We encourage you to make small or large donations at any time. **Be sure to mention that you are an Alum, Class of 'XX when donating**
DONATE ONLINE through the Redwood Foundation:
or by check using the ALUMNI DONATION FORM
For more information about the Foundation, go to redwoodhsfoundation.com.
ANOTHER GIANT LOSS: GARY HOLBROOK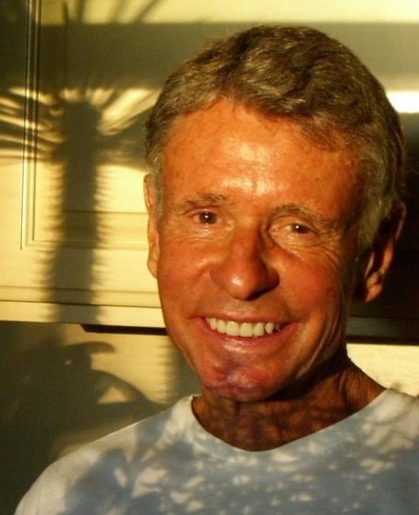 It is with great sadness that I share the passing of another Redwood Giant, Gary Holbrook, a beloved Redwood Counselor from the late 60s through mid 80s. Gary was a compassionate counselor who guided many students through years of teen angst to a variety of college and career paths. Many of those students have maintained contact with him over the years.Gary was always upbeat and positive, even during recent medical issues. He loved life and made everyone he met feel special. Gary leaves behind his husband/partner of over 45 years Randy Baily and a large group of friends here in the Bay Area as well as in Palm Springs.
BE A PART OF LOCAL HISTORY
Kentfield and Greenbrae Alumni, and history buffs everywhere… the Kentfield Greenbrae Historical Society (KGHS) recently made a major purchase to save a piece Kentfield History for the community. This 1871 painting of Ross Landing (now Kentfield) by Joseph Lee recently came up for auction in Chicago… what was it doing there?
Of course you recognize Mount Tam with College Avenue crossing the Corte Madera Creek and what would later become Sir Francis Drake Boulevard, heading toward Ross. Kentfield Corners with several buildings is in the foreground with the grounds of College of Marin in the center of the painting. If you would like to help us keep this beautiful painting in Marin where it belongs, please consider a donation to the KGHS at www.kghs.org. It will soon be displayed for those interested in seeing it in person. You can also visit our Gallery in Bon Air to see an high quality replica.
SURPLUS YEARBOOKS AVAILABLE FOR SALE!
The Redwood Alumni Association has purchased most of the surplus yearbooks from Redwood for a very good price...We can offer them to you for only $50 including shipping and handling. We have one or more for most classes since 1975, some classes being more scarce. If you have lost a yearbook or never bought one, and are interested, please contact info@redwoodalumni.org with your name, year of the yearbook, and mailing address. We will notify you and if the yearbook is available, will give you payment instructions! Yearbook purchase(s) are available to Redwood alumni only.