Redwood High School Alumni
All Classes 1959 to present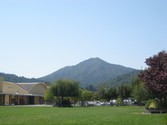 l
Like us on Facebook
Redwood Lip Dub 2023
Link to Redwood Construction
TURNING BACK TIME
We may be setting our clocks back an hour on November 4th, but this photo will set you back 65 years! Redwood really was built in the middle of a marsh with its only entrance on Williams Avenue.There was no quad, amphitheater, back parking lot, CEA, Moody fields, swimming pool or other athletic facilities, and certainly no technology...some of you will remember film strips and reel to reel movies in the classroom? And black boards with chalk and erasers? And a library reference room with a card catalog and filled with encyclopedia?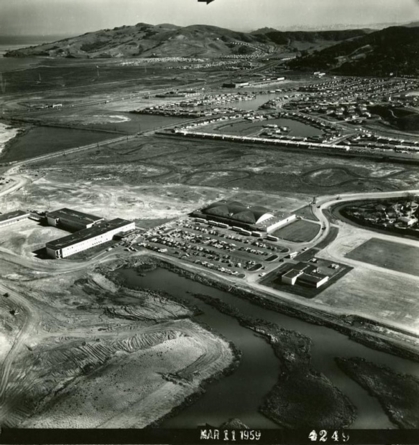 Aerial View of Redwood 1959 Courtesy Marin History Museum
Redwood opened to its first students in 1958 It was supposed to be called Licatuit, after an Indian princess, but that was challenged and Redwood emerged as the official name, even though redwood trees didn't and couldn't grow in the marshy area. A lot has changed over the years. There were over 2700 students at its peak in the '70s. Many new facilities have been added and many need to be updated. The upcoming bond issue hopes to address that. Please vote YES! Redwood is still a school with many opportunities, excellent teachers and stellar students who will make a difference in the world.
AVENUE OF GIANTS 2024 INDUCTEES
We are very excited to introduce the 2024 inductees into the Avenue of Giants!


Kathleen M. Adams '75 is a Professor Emerita of cultural anthropology at Loyola University Chicago. Her research focuses on heritage, tourism studies, museums, art, identity/ethnic relations, and Indonesia.
Matt Doyle '05 is a 2022 Tony Award Winning actor best known for his work on Broadway stages. He currently is playing Frank in Sinatra:The Musical.
Christine Cavanaugh Paquette '84 is Executive Director for St. Vincent de Paul Society of Marin, holding a leadership position in a client-centered approach to ending homelessness

Go to the Avenue of Giants Bio page for more details.

SAVE THE DATE: FRIDAY, MARCH 8, 2024 for the Avenue of Giants Banquet.at McInnis. We will be honoring the 2023 and 2024 inductees as well as a few who have been unable to attend prior banquets.
Details about ticket purchase will be on the website and mailed to alumni in January.
REDWOOD ATHLETIC HALL OF FAME 2024 INDUCTEES
The RAHOF selection committee is pleased to announce the following 2024 inductees to the RHS Athletic Hall of Fame. *Bios and Pics coming soon on Alumni web site. 2024 selections will be inducted at next RAHOF Banquet, Spring 2025.
Athlete Category:
- Cooper Helfet '07 LaCrosse, Football
- Dwight MacDonald '75 Water Polo, Wrestling, Baseball
- Jim Jones '79 Baseball
- Brian Matthews '92 Swimming, Water Polo
Coach Category; David Kirchoff 1980-'93; Rugby
Team Category '69 Track & Field, Mile Relay Team: Tom Estudillo, Todd Norris, Tom Poppin, Robin Williams
REUNIONS ARE STILL HAPPENING...
Class of '03 (20th) ... Saturday, November 4, 2023 Venue: Sam's Anchor Cafe Tiburon Contact jeremy.d.schwartz07@gmail.com
Class of '13 (10th) ... Saturday, November 25, 2023 Class contacts: Megan Daly: meganannedaly@gmail.com Celeste Carswell: celeste.carswell@me.com
Class of '14 (10th). Date TBD, November 2024 Class Contacts: Christina Canady, Geneva Gondak
If you would like help planning reunions for your class or have information about your reunion, please contact us. 2024 REUNIONS... Classes of '64, '74. '84, '94, '04, and '14, might want to form committees with class officers or other interested parties. You can reach us at reunions@redwoodalumni.org and we can help you get started and send you the class database, and post your information! More DETAILS ON REUNION PAGE
NOVEMBER, DECEMBER AND JANUARY
RED PAGES SPOTLIGHT
DOSTAL STUDIOS
Frank Dostal '81
Dostalstudio.com (415) 721-7080 frontdesk@dostalstudio.com
17 Woodland, San Rafael, CA 94901
Dostal Studios offers a vast collection of moulding, matting and filets. We listen to our clients -- with years of framing experience, our design expert ensures the proper framing for your valued artwork. Dostal Print Studio provides artists, photographers, graphic professionals, and curators with essential services, including direct digital image capture of art, custom film scans, archival quality fine art printing, and expert retouching.
Frank started working in the business in 1982, at 19 years old. He accepted an offer for a picture framing job at Bridgeway Gallery in Sausalito, while attending college of Marin. Within 6 months of working at Bridgeway Gallery, he became a partner, and within a couple years, took full ownership of the framing business.He has been in business as Dostal Studio ever since, opening several art galleries along the way.
ALUMNI RED PAGES... CLICK HERE
Please support small businesses and services, especially Alumni businesses! If you would like to be listed, please contact Ted Wray at jtedwray@gmail.com or info@redwoodalumni.org We will list your name, grad year, and a link to your website, email, or phone. Be sure to mention Redwood Alumni Red Pages when you do business.
SUPPORTING ALUMNI ...
Deborah Huber '76 and Willow Older have written a book Today I Noticed, inviting readers to slow down and appreciate the little moments in daily life... a conversation with Vicki Larson
November 4 1:00pm at Book Passage
Gerry Warburg '72 will be touring with his new book Saving Point Reyes: How an Epic Conservation Victory Became a Tipping Point for Environmental Policy Action, a love letter to Marin and Point Reyes. It goes into detail about Tam, Marincello, GGNRA, and the fight for Point Reyes. It also examines in detail the costs of setting aside so much public land and explores the many women heroines who led conservation fights.
November 5 at Book Passage in Corte Madera 1 pm introduced by Redwood parent Cheryl Bronstein.
November 8 at the Lane Center on the American West at Stanford University 4 pm
November 11 on stage with Point Reyes Books at the Dance Palace at 3 pm with fellow Redwood alum, historian Dewey Livingston '72.
THANK YOU REDWOOD ALUMNI!.
We raised enough money to give three Alumni Scholarships in 2023 to very deserving students. In recognition of their privacy, we can no longer share details but believe me, these students are amazing, not only in over coming the challenges they faced but in excelling in their academic and leadership skills.
Many of the Scholarship contributions were donated to honor staff, classmates and family members. We received donations in honor of recently deceased staff members Duncan MacSwain, Phil Roark, Charlie Feeney, Tino Lavezzo and Sallie Ward. Gordon Van Zee, Glenda Gentry and "the amazing Mr. Medogovich" also received recognition and are still with us. Miriam Jobrani '86, Rick Sims '61 and Sandy Minutoli Weitzel '63 received memorial tributes. A generous donation in honor of Gary Kuhn '75 was made. Lou Larson '69 and Polly Conner were also recognized. Thank you again for your generosity! Donor List
You can always make a donation for next year!
DONATE NOW ONLINE through the Redwood Foundation
or by check using the ALUMNI SCHOLARSHIP FORM
Mail **check made out to Redwood Foundation/Alumni to:
Redwood Foundation
c/o Redwood High School
395 Doherty Drive, Larkspur CA 94939
GIVE AS AN INDIVIDUAL or AS AN ALUMNI BUSINESS
All donors will be listed on the Alumni website and if you wish, your business can be listed on the Alumni website with a live link to your website or email address.

Alumni businesses who would like more exposure to the Redwood community can also become part of the Redwood High School Foundation Community Partner Program.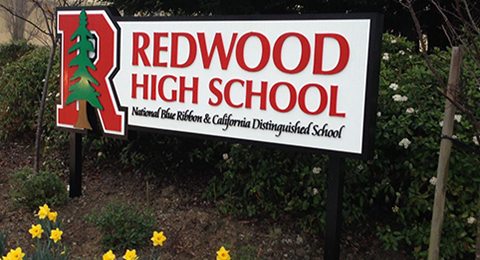 ​​​​​​​
WE HAVE LOST AN ORIGINAL REDWOOD GIANT: AL ENDRISS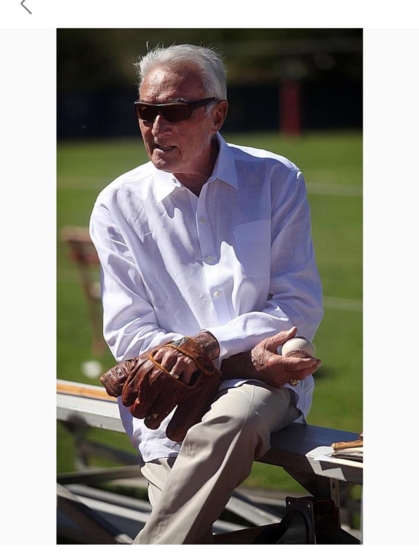 We have lost one of the original Giants. Al Endriss passed away on Tuesday, November 7 at the age of 95. He lived life to the fullest until his last days. He even attended a luncheon in his honor hosted by many of his former students just a few weeks ago. Al arrived at Redwood in 1959 and quickly became a legend. He was known as Mr. Spirit, dressed in his red sports jacket and leading the marching band through the hallways to rallys and games. His enthusiasm for sports and athletes was genuine. His impact on everyone he coached, taught & mentored will last long beyond his life. He is survived by his wife of 69 years Jackie, his children Matt, Mark and Nicole and their families, and legions of student athletes that he has nurtured over the years.
ANOTHER GIANT LOSS: GARY HOLBROOK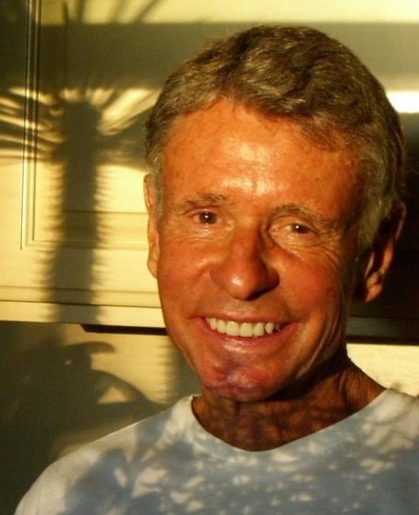 It is with great sadness that I share the passing of another Redwood Giant, Gary Holbrook, a beloved Redwood Counselor from the late 60s through mid 80s. Gary was a compassionate counselor who guided many students through years of teen angst to a variety of college and career paths. Many of those students have maintained contact with him over the years.Gary was always upbeat and positive, even during recent medical issues. He loved life and made everyone he met feel special. Gary leaves behind his husband/partner of over 45 years Randy Baily and a large group of friends here in the Bay Area as well as in Palm Springs.
BE A PART OF LOCAL HISTORY
Kentfield and Greenbrae Alumni, and history buffs everywhere… the Kentfield Greenbrae Historical Society (KGHS) recently made a major purchase to save a piece Kentfield History for the community. This 1871 painting of Ross Landing (now Kentfield) by Joseph Lee recently came up for auction in Chicago… what was it doing there?
Of course you recognize Mount Tam with College Avenue crossing the Corte Madera Creek and what would later become Sir Francis Drake Boulevard, heading toward Ross. Kentfield Corners with several buildings is in the foreground with the grounds of College of Marin in the center of the painting. If you would like to help us keep this beautiful painting in Marin where it belongs, please consider a donation to the KGHS at www.kghs.org. It will soon be displayed for those interested in seeing it in person. You can also visit our Gallery in Bon Air to see an high quality replica.
MARIN ATHLETIC LEAGUE HALL OF FAME:
SATURDAY, NOVEMBER 4 at 5:30 PM at EMBASSY SUITES RESERVATIONS
Redwood Inductees: Christine Choppelas '87
Hal Schultz '76
You may know about the Redwood Athletic Hall of Fame (redwoodalumni.org), but do you know our athletes also can be recognized county-wide at the Marin Athletic Foundation Hall of Fame? Let's make sure Redwood, as the largest school in the MCAL, is fully represented in the MAF Hall of Fame.
Anyone may nominate an athlete, coach or special recognition applicant. It is helpful to have back-up information such as supporting letters, records or newspaper clippings that tell the story. Application forms can be found on the the MAF link above. The deadline for the 2024 MAF HOF is April 1, 2024.
The nomination categories:
Athlete Nomination: A youth athlete who has competed in the interscholastic athletic program in a Marin County high school and reached his/her 20th graduation year.
Coach Nomination: A coach who has coached in the interscholastic athletic program in a Marin County high school, and shown great excellence throughout his career as a mentor and leader to youth student-athletes.
Special Participant Nomination: A person or entity (sponsors are welcome) who has made a significant contribution to Marin County high school athletics.
For further information, please contact Sue Chelini, 415-786-6025 or chelini67@gmail.com.
SURPLUS YEARBOOKS AVAILABLE FOR SALE!
The Redwood Alumni Association has purchased most of the surplus yearbooks from Redwood for a very good price...We can offer them to you for only $50 including shipping and handling. We have one or more for most classes since 1975, some classes being more scarce. If you have lost a yearbook or never bought one, and are interested, please contact info@redwoodalumni.org with your name, year of the yearbook, and mailing address. We will notify you and if the yearbook is available, will give you payment instructions! Yearbook purchase(s) are available to Redwood alumni only.
ANNOUNCEMENTS
I need help to find family and friends of Todd Norris, Tom Poppin and Robin Williams, all graduated in 1969. We were teammates in 1969 on the Redwood High School track team, setting the mile relay record for the school that year, and it remains the school record to this day! The relay team was selected to be inducted into the Redwood Athletic Hall of Fame for this milestone achievement. Unfortunately, all three men are deceased. If anyone is related to them or can help me find living relatives or close friends, please contact me. I want their wives, ex-wives, children and friends to know these former athletes are being honored next year. My desire is for their families and friends to know their accomplishments and to attend the RAFOF induction ceremony.
Any information would be helpful. Please contact:
Tom Estudillo
Puffyhead@aol.com
Thank you very much.