Redwood High School Alumni
All Classes 1959 to present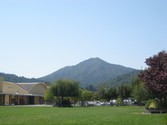 l
GIVING TUESDAY!

Give back to Redwood
and help maintain the excellence of your alma mater! Every little bit helps.
REDWOOD ANNUAL GIVING CAMPAIGN 2022-2023
The Redwood High School Foundation works collaboratively with the Redwood Alumni Association to support academics, arts, athletics, and scholarships. All donations in the name of Alumni are funneled through the Foundation, and they, in turn, fund all Alumni activities and needs. We encourage you to make small or large donations at any time. Please contribute to the:

REDWOOD FOUNDATION GRANTS (Academics, Arts & Athletics)
DONATE ONLINE through the Redwood Foundation:
or by check ALUMNI DONATION FORM
**Be sure to mention that you are an Alum, Class of 'XX when donating**
Not only does the Redwood Foundation support Alumni Activities (Avenue of Giants, Athletic Hall of Fame, Alumni Scholarship, Website...), it raised over $1.2 mil last year for Redwood Academics, Athletics and Arts. For more information about the Foundation, go to redwoodhsfoundation.com.

REDWOOD ALUMNI 2023 SCHOLARSHIPS

Each spring the Redwood Alumni Association gives a $2500 scholarship to a deserving student. We need your support to keep this tradition alive, now more than ever. Please consider contributing $25 or more to this wonderful cause and help a student reach his/her dreams.
You may donate to honor a former teacher, staff member, or classmate and we will notify them.
DONATE NOW ONLINE or by check ALUMNI SCHOLARSHIP FORM
Mail **check made out to Redwood Foundation/Alumni to:
Redwood Foundation
c/o Redwood High School
395 Doherty Drive, Larkspur CA 94939
ARE YOU PLANNING REUNIONS FOR 2023?
If you would like help planning reunions for your class, please contact us. There are several other classes considering 2022 reunions. 2023 REUNIONS... Classes of '63, '73. '83, '93, '03, and '13, might want to form committees with class officers or other interested parties. You can reach us at reunions@redwoodalumni.org and we can help you get started and send you the class database, and post your information! More DETAILS ON REUNION PAGE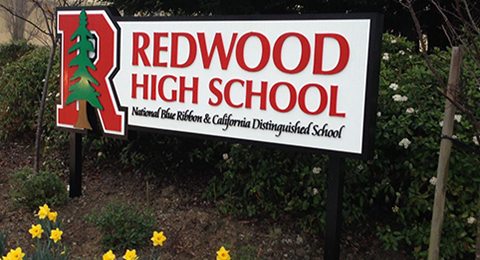 INTRODUCING THE 2023 AVENUE OF GIANTS INDUCTEES!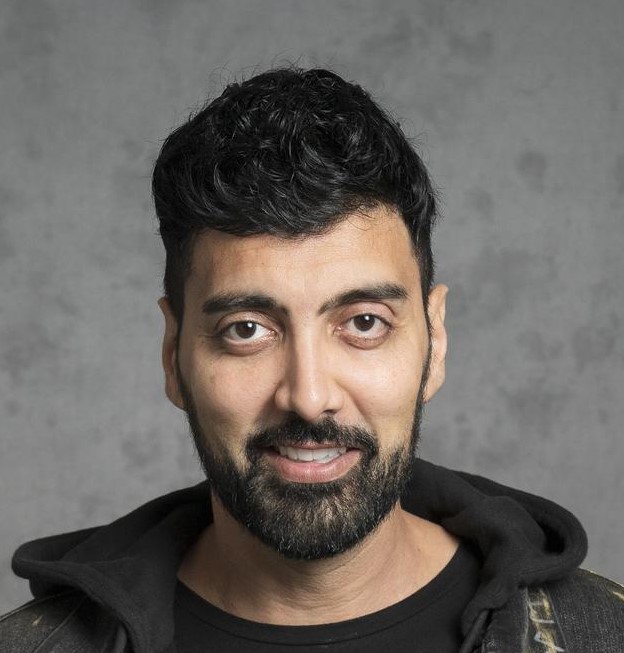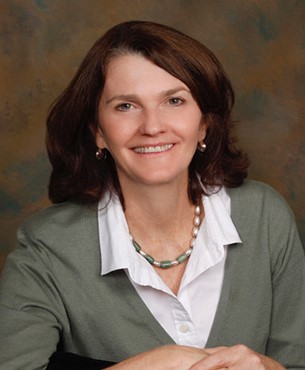 Wendy Ng '75 has made impressive contributions as a professor of sociology, department chair, and associate dean at San Jose State and now as dean at Cal State East Bay. Her focus has been to help provide an education for first-generation and underrepresented minority groups of college students.
Ronnie Singh '00 known as Ronnie 2K, is a social media innovator and digital marketing director for the NBA 2K Foundation. With the 2k Foundation, he opened basketball courts in disadvantaged communities in the U.S. and abroad.
Dilys Walker '78 is a global expert in maternal newborn quality of care and a professor in the UCSF department of obstetrics and gynecology. She directs a research group focused on maternal mortality, family planning, and adolescent reproductive health.
Read their full biographies here.
The next Avenue of Giant Banquet will be in March of 2024.
ATHLETIC HALL OF FAME INDUCTEES COMING SOON!
The next RAHOF induction banquet will be held in MARCH 2023 and celebrate selections from 2021 and 2023. The Avenue of Giants banquet for 2023 and 2023 will be held in March 2024. Our selection committee is always accepting new nominations. All nominations for the next cycle are due OCTOBER 1, 2023.
REDWOOD ALUMNI VISIT SEAHAWKS COACH PETE CARROLL '69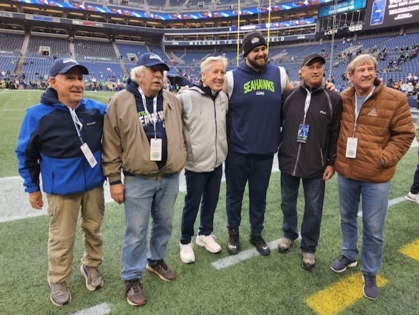 Don Meyer 69, Lou Larsen 69, Pete Carroll 69, Jake Curhan 16, Steve Boro 73, Jerry Piro 70
IN MEMORY OF JOHN JAY OSBORN '63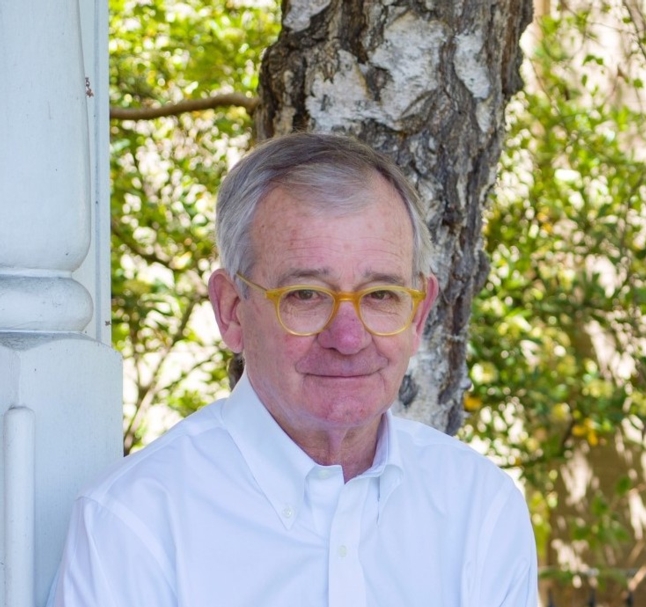 John was just inducted into the Avenue of Giants in May 2022, unable to attend because of his illness. In his final year at Harvard Law School, his writing elective resulted in "the Paper Chase," a definitive novel, Hollywood movie and TV series that helped humanize the experience of law school. He was just 26 years old and at the beginning of a long, productive career. He later went on to write "The Associates" which also went on to become a TV series. All this while, he continued to practice and teach law. John Jay Osborn Obit
ALUMNI RED PAGES... CLICK HERE
Please support small businesses and services, especially Alumni businesses! If you would like to be listed, please contact Ted Wray at jtedwray@gmail.com or info@redwoodalumni.org We will list your name, grad year, and a link to your website, email, or phone. Be sure to mention Redwood Alumni Red Pages when you do business.
NOVEMBER, DECEMBER & JANUARY RED PAGES SPOTLIGHT:
SHIPPEY VINEYARDS
Matt and Tim Shippey '70
Shippeyvineyards.com matt@Shippeyvineyards.com 707-757-8868
Tasting Room: Hudson Street Wineries, 428 Hudson Street, Healdsburg, CA

Our motto is "Life is too short for bad wines" To learn more about our philosophy visit the Shippey link. If you like big reds send your name and email address to Matt@Shippeyvineyards.com and we will put you on our list for special offers and events.
GIVE BACK TO REDWOOD... 2022-2023 CAMPAIGN
Please consider giving back to Redwood in other ways ... any amount will be appreciated!
The Alumni Association works closely with the Redwood Foundation. In past years they have raised over $1.2 mil to help Academics, Arts, and Athletics. They sponsor our activities, we help raise monies for the Foundation and the Alumni Scholarship, as well as assist at some of their events. It's time for us to step up to the plate and help with any kind of contribution, large or small! We did not do very well last school year so please make a small donation!
DONATE NOW! Mail-in Donation Form
If you would prefer, you may send a **check made out to:
Redwood Foundation
c/o Redwood High School
395 Doherty Drive, Larkspur CA 94939
**Please mention that you are a Redwood alum and give your year of graduation!
2023 SCHOLARSHIP DONATIONS ...LET'S DO BETTER THIS YEAR!
DONATE NOW ONLINE or BY MAIL to the Alumni Scholarship Program!
If you would prefer, you may send a check made out to:
Redwood Foundation/Alumni Scholarship
c/o Redwood High School
395 Doherty Drive, Larkspur CA 94939
A BIT OF NOSTALGIA... can you figure out what it says?
The homecoming poster from 1966...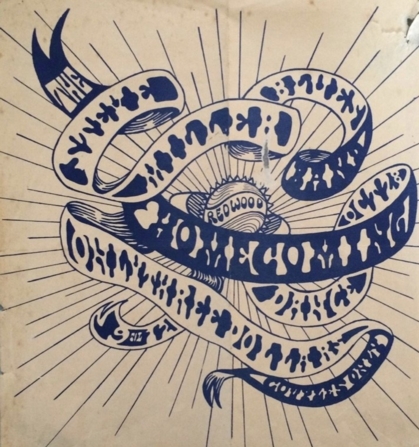 The... Steve Miller ...Blues Band... Homecoming ...Dance ...Only Three Dollars ...Couples Only... ???
AVENUE OF GIANTS BANQUET & SPEAKER DAY WAS A HUGE SUCCESS!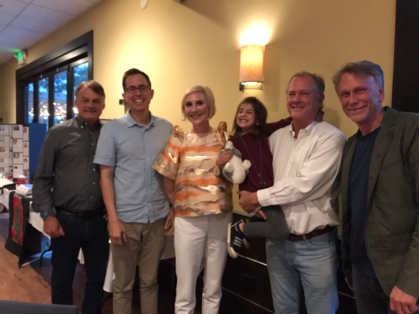 David Warner '72, Josh Reeves '01, Laura Holmes Haddad '93, Gary Kuhn '75, Peter Horton '71
Go Giants! Visit the PHOTO GALLERY! You can read the full bios of all of the inductees HERE. It's never too late to nominate another classmate. The next cycle for 2023 closes on October 1.
RIP TINO LAVEZZO
Long-time Social Studies teacher and resident philosopher passed away September 12. He loved working with young people, challenging their assumptions, and cultivating their curiosity and critical thinking. (Full obituary In Memory section)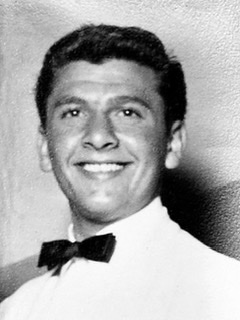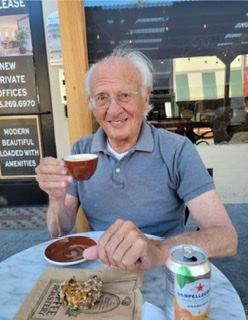 MORE GIANT LOSSES 2021-2022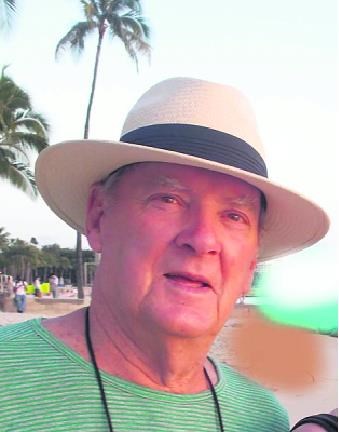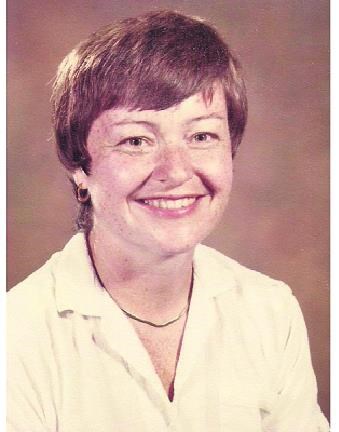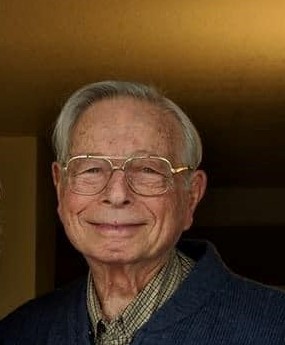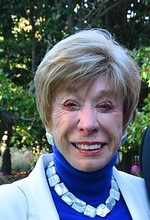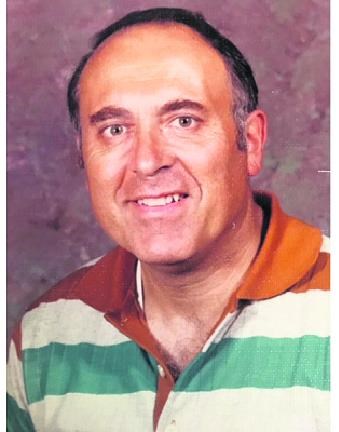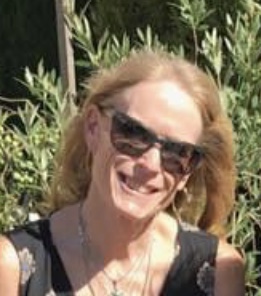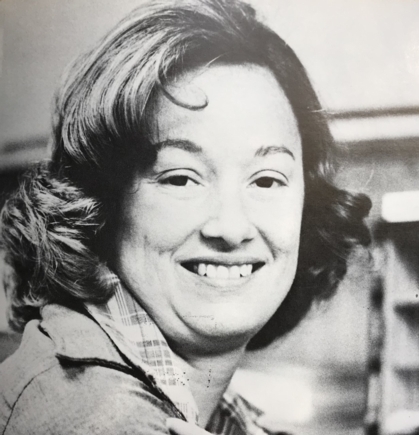 Charlie Feeney taught English for many years, inspiring students with his creativity, wisdom, and love of learning.
Linda Tassano taught math at San Jose Middle School and San Marin High School in Novato, and Redwood High School in Larkspur.
Sid Gordon was one of the original Redwood teachers… he was a music teacher extraordinaire! In the early years, he would be out with the marching band on the football field.
Maria Van Buskirk Pitcairn was a beloved American Lit and English teacher known for her legendary Approaches to Grammar class.
Tony Compagno was a strong supporter of struggling students as a Counselor, Shop teacher, and WEEP (Work Experience) advisor.
Kelly Starrett "ran the school" from behind the scenes in the Counseling office...she was the computer scheduler, attendance, and grade processor.
Sallie Ward taught Social Studies for several decades before transferring to Tam after the 1981 layoffs. She brought Women's Studies into the curriculum and dedicated herself to students.
SURPLUS YEARBOOKS AVAILABLE FOR SALE!
The Redwood Alumni Association has purchased most of the surplus yearbooks from Redwood for a very good price...We can offer them to you for only $50 including shipping and handling. We have one or more for most classes since 1975, some classes being more scarce. If you have lost a yearbook or never bought one, and are interested, please contact info@redwoodalumni.org with your name, year of the yearbook, and mailing address. We will notify you and if the yearbook is available, will give you payment instructions! Yearbook purchase(s) are available to Redwood alumni only.