Redwood High School Alumni
All Classes 1959 to present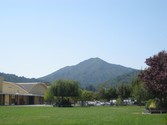 l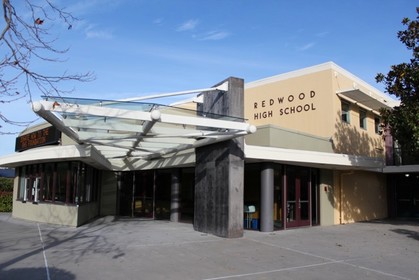 2020 continues to be a very challenging year. The Redwood campus is still empty as all classes are distance learning and all sports activities have been cancelled until January 2021. The Alumni Association is doing all it can to keep classmates connected, recognize distinguished alumni and support the quality education we all received at Redwood. We want to thank all of you who supported the Measure M Parcel Tax (passed by almost 75%) which represents 17% of the Tamalpias Union HS District budget. It will:
Maintain excellent applied technology, engineering and computer programming courses

Maintain Advanced Placement course offerings

Preserve athletics, arts and music electives

Protect robust science curriculum, including biomedical science, physiology, and environmental science courses

Attract and retain highly qualified and diverse teachers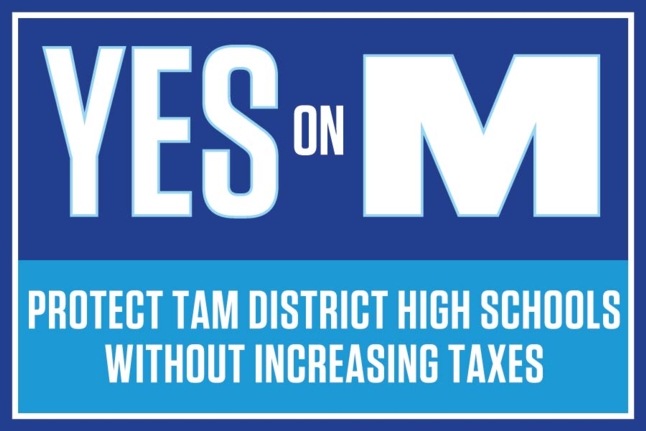 CANCELLATIONS AND CHANGES FOR 2020-2021
The Corona Virus restrictions have caused the Alumni Association to reassess our plans for the 2020-2021 school year. The safety and health of our alumni is of prime importance. As of September 1, 2020:
We have cancelled the Athletic Hall of Fame Banquet which we had originally postponed to October 3, 2020. Monies were refunded or donated to the Redwood Scholarship Fund for 2021.
We have decided not to schedule the 2021 Avenue of Giants Speaker Day and Banquet , usually held in March for both the 2020 and 2021 inductees. A new date will probably take place in winter of 2022.
Nominations and selections of the 2021 Athletic Hall of Fame and Avenue of Giants will still take place in October, the deadline for new nominations is October 1, 2020. www.redwoodalumni.org for details.
Reunions for 2020 are either being cancelled or postponed. Please contact your class for details. There is certainly no reason why 2021 reunion classes can't get started in planning!
Reunions for 2021... Classes of '61. '71. '81, '91, '01 and '11 should start thinking about plans for fall of 2021! Contact us for help!
GIANTS IN THE NEWS
2018 Inductee Alicia Garza '98 appeared on the Trevor Noah Show promoting her new book The Purpose of Power...Trevor Noah Comedy Central
2016 inductee Tiffany Shlain '88 is in conversation with Huffington Post as well as publishing her new book 24/6 The Power of Unplugging One Day a Week. http://www.tiffanyshlain.com/
2019 inductee Cigall Kadoch '03, founder of Foghorn Lab, hit Nasdaq last month with an amazing debut. She is one of bio-tech's rising stars. Foghorn Lab and Foghorn Debut
ALUMNI RED PAGES... CLICK HERE
This is a place where you can find local Alumni businesses and services or promote your own! It's always nice to be able to support Redwood alumni. We are just getting started... If you would like to be listed, please contact Ted Wray at jtedwray@gmail.com or info@redwoodalumni.org We will list your name, grad year and a link to your website, email or phone. Be sure to mention Redwood Alumni Red Pages when you do business. New additons to this are added regularly. We will feature one of our businesses in each newsletter, on the website or on Facebook throughout the year.
SEPTEMBER SPOTLIGHT:
Matt & Jeff's Car Wash
(Matt Broderick '76 & Jeff Coplin '76)


125 Vintage Way, Novato mattandjeffscarwash.com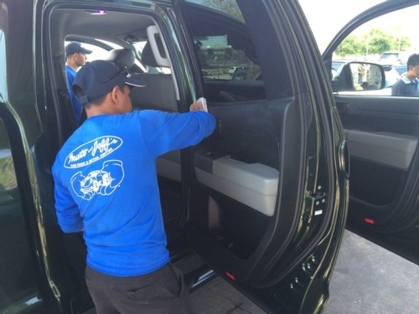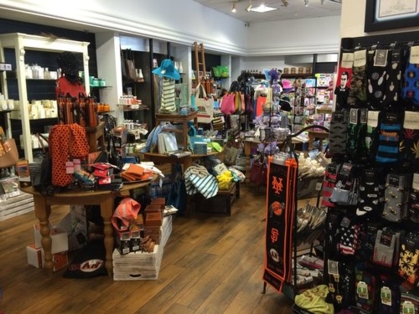 2020 REUNIONS...AND 2021 REUNIONS!
If you are in the Class of '60, '70, '80, '90, 2000 or '10... there may be changes in reunion plans. We have no immediate updates but please keep an eye on our REUNIONS page on the website for current information. If you want to start planning 2021 REUNIONS, Class of '61, '71, '81, '91, '01 or '11, please contact us reunions@redwoodalumni.org and we can help you get started and send you the class database.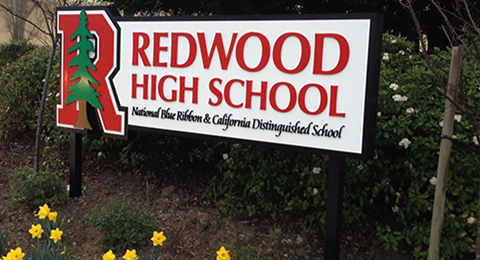 IT'S ALWAYS TIME TO DONATE TO THE REDWOOD ALUMNI SCHOLARSHIP
Each spring the Redwood Alumni Association gives a $2500 scholarship to a deserving student. We need your support to keep this tradition alive, now more than ever. Please support future graduates by contributing $25 to this wonderful cause. You may donate to honor a former teacher, staff member or classmate and we will notify them.
DONATE NOW to the Alumni Scholarship Program!
If you would prefer, you may send a check made out to:
Redwood Foundation/Alumni Scholarship
c/o Redwood High School
395 Doherty Drive, Larkspur CA 94939
GIVE BACK TO REDWOOD... 2021 CAMPAIGN
Please consider giving back to Redwood ... any amount will be appreciated!
The Alumni Association works closely with the Redwood Foundation. They raised over $1.2 mil last year to help Academics, Arts and Athletics. They sponsor our activities, we help raise monies for the Foundation and the Alumni Scholarship, as well as assist at some of their events. It's time for us to step up to the plate and help with any kind of contribution, large or small!
DONATE NOW!
If you would prefer, you may send a **check made out to:
Redwood Foundation
c/o Redwood High School
395 Doherty Drive, Larkspur CA 94939
**Please mention that you are a Redwood alum and give your year of graduation!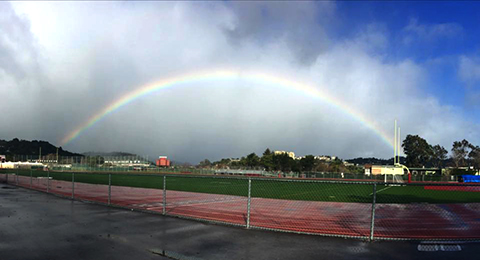 Rainbow Over Troppman Football Field, Flash Basham Track
IN MEMORY OF DOUG BASHAM AND BOB BACHELDER
Both Dough Basham and Bob Bachelder were Math teachers together for many years as well as good friends and skiing buddies. Doug (85) had been struggling with Alzheimer's for the last three years and moved to Oregon to be near his daughter. His real "claim to fame" was the connection he made with students through his coaching of both Cross Country and Track, well into his retirement years. Bob (90) was dedicated to teaching and was the original "fix it" man who was often seen with his tool kit helping his colleagues. He was an avid skiier and wind surfer well into his 80's. They made a difference and will be missed by the Redwood Family.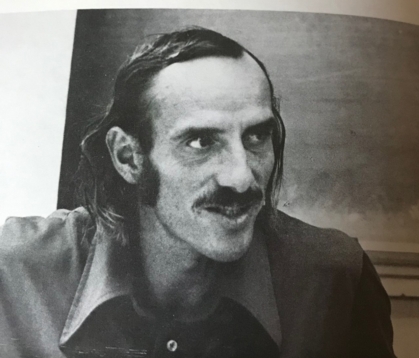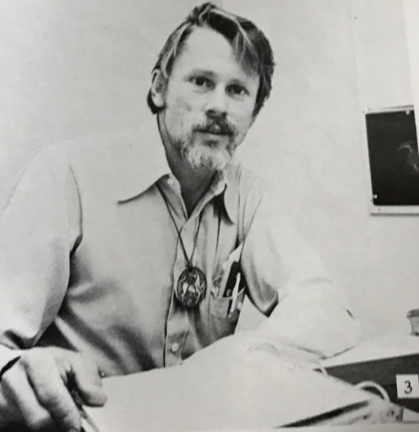 SURPLUS YEARBOOKS AVAILABLE FOR SALE!
The Redwood Alumni Association has purchased most of the surplus yearbooks from Redwood for a very good price...We can offer them to you for only $50 including shipping and handling. We have one or more for most classes since 1975, some classes being more scarce. If you have lost a yearbook or never bought one, and are interested, please contact info@redwoodalumni.org with your name, year of yearbook and mailing address. We will notify you and if the yearbook is available, will give you payment instructions! Yearbook purchase(s) are available to Redwood alumni only.