Redwood High School Alumni
All Classes 1959 to present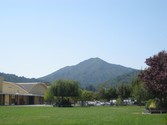 l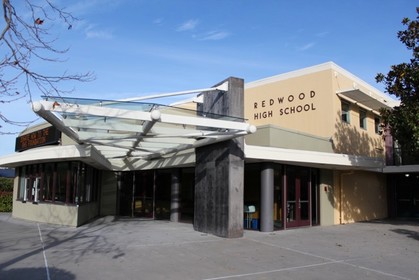 IN MEMORY OF MILLIE HACKWORTH REDWOOD SCIENCE TEACHER 1996-2016
We are very sad to share the news of the sudden passing of Millie Hackworth Milstead, beloved chemistry teacher at Redwood from 1996-2016 and at Drake until her death on Saturday. Millie had suffered from cardiac arrest early June 11, 2020 and could not recover. She leaves behind her husband Rod Milstead, also a teacher at Drake, and three children Tyler, Sydney, and Alden who will all be students at Drake in the fall. Her positive outlook, energy and creativity made her an outstanding teacher and colleague. She will be missed by so many.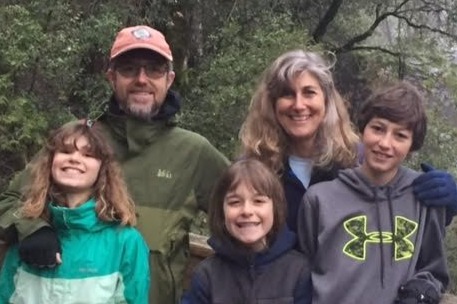 A Go Fund Me site has been established for the family: MILLIE
And a Memories Page where you can leave memories of your connection to Millie: MEMORIES
CONGRATULATIONS CLASS OF 2020!
What a year this has been for the Class of 2020! In the fall there were the North Bay fires and power outages that closed the schools. This winter and spring brought on the Coronavirus with the schools closed again and students Sheltering In Place at home with their families. Remote teaching took place for the remainder of the year, spring sports were cancelled, prom was cancelled.... This Covid 19 virus brought on an ecomomic crisis that is just beginning to unfold. And just when they were preparing for graduation, the killing of George Floyd led to angry protests of injustice and inequity all over the country. The Class of 2020 has had a unique and powerful education during these unprecedented times and will be better prepared than most to face the challenges that lie ahead. We know you can do it!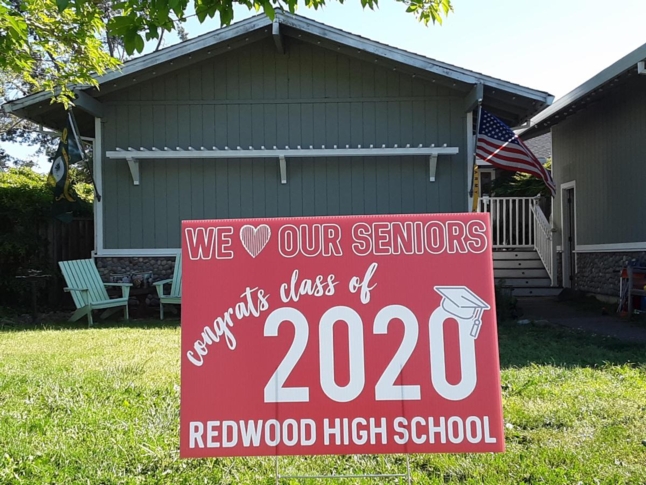 THE LAST LESSON OF THE SCHOOL YEAR
In a message to all of Redwood's Staff, David Sondheim, Principal, sent out this memo. We are passing the links on to all the Redwood family.
I encourage each of you to read this short article to reinforce how many people of color are experiencing the pandemic and the most recently publicized racist incidents. As a white person, I need to apply an equity lens in all matters, and stand against what has been happening to people of color not only in present times but for many past generations.
Also, this link describes steps white people can take to improve their understanding of racism and guide anti-racist actions. These terrible incidents should be yet another reminder that if we stay silent, don't take action and let our fear stop us from discussing and acting to eliminate racism, we are complicit in the systemic racism that continues to eat away at our society. White people must take a stand for lasting change to occur.
2020 REDWOOD ALUMNI SCHOLARSHIP GOES TO LUCY BERRY!
Congratulations to Lucy Berry '20, this year's recipient of $2500 Alumni Scholarship. She is a straight A student, planning to go to Texas Christian University in Fort Worth to study Chemistry, actually neuro-chemistry. As the Co-Editor in Chief of this year's Redwood Yearbook, she has been able to use her creativity, leadership and enthusiasm to overcome the challenges brought on by the coronavirus. Lucy is a diligent student and involved young woman. She is also the leader of the Tobacco Use and Prevention Education program, taking on the tough job of educating her peers. She is the embodiment of responsibility, integrity and leadership in a time of much uncertainty for her generation. She will become a graduate worth watching!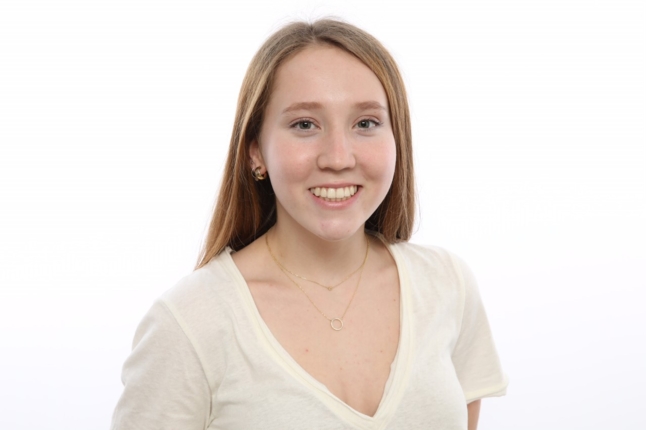 IT'S ALWAYS TIME TO DONATE TO THE REDWOOD ALUMNI SCHOLARSHIP
Each spring the Redwood Alumni Association gives a $2500 scholarship to a deserving student. We need your support to keep this tradition alive, now more than ever. Please support future graduates by contributing $25 to this wonderful cause. You may donate to honor a former teacher, staff member or classmate and we will notify them.
DONATE NOW to the Alumni Scholarship Program!
If you would prefer, you may send a check made out to:
Redwood Foundation/Alumni Scholarship
c/o Redwood High School
395 Doherty Drive, Larkspur CA 94939
CANCELLATIONS AND CHANGES FOR 2020-2021
The Corona Virus restrictions have caused the Alumni Association to reassess our plans for the 2020-2021 school year. The safety and health of our alumni is of prime importance. As of June 1, 2020:
We have cancelled the Athletic Hall of Fame Banquet which we had originally postponed to October 3, 2020. We are working with the Foundation Development Director to reach out to all people who had purchased tickets and "moved them forward" to the new date. Monies will now either be refunded or donated to the Redwood Scholarship Fund for 2021.
We have decided not to schedule the 2021 Avenue of Giants Speaker Day and Banquet , usually held in March for both the 2020 and 2021 inductees. A new date will probably take place in winter of 2022.
Nominations and selections of the 2021 Athletic Hall of Fame and Avenue of Giants will still take place in October, the deadline for new nominations is October 1, 2020. www.redwoodalumni.org for details.
Reunions for 2020 are either being cancelled or postponed. Please contact your class for details. There is certainly no reason why 2021 reunion classes can't get started in planning!
ALUMNI RED PAGES... CLICK HERE
This is a place where you can find local Alumni businesses and services or promote your own! It's always nice to be able to support Redwood alumni. We are just getting started... If you would like to be listed, please contact Ted Wray at jtedwray@gmail.com or info@redwoodalumni.org We will list your name, grad year and a link to your website, email or phone. Be sure to mention Redwood Alumni Red Pages when you do business. New additons to this are added regularly. We will feature one of our businesses in each newsletter, on the website or on Facebook throughout the year.
JUNE SPOTLIGHT:
Louis Thomas Men's Clothing owned by Tom Malvino '72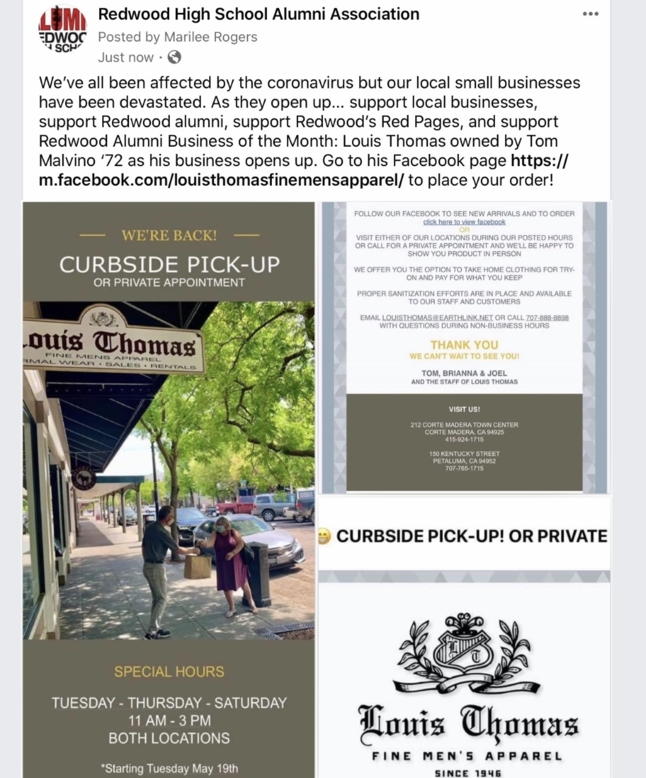 2020 REUNIONS...
If you are in the Class of '60, '70, '80, '90, 2000 or '10... there may be changes in reunion plans. We have no immediate updates but please keep an eye on our REUNIONS page on the website for current information. If you want to start planning 2021 REUNIONS, please contact us reunions@redwoodalumni.org and we can help you get started and send you the class database.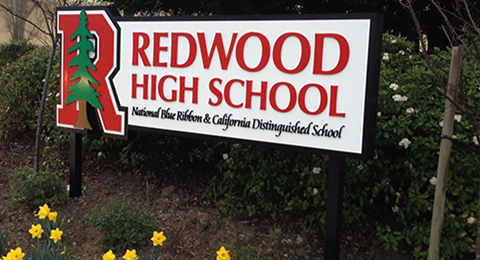 GIVE BACK TO REDWOOD... 2020 CAMPAIGN
Please consider giving back to Redwood ... just $20.20 will help... $20 is fine too!
The Alumni Association works closely with the Redwood Foundation. They raised over $1.2 mil last year to help Academics, Arts and Athletics. They sponsor our activities, we help raise monies for the Foundation and the Alumni Scholarship, as well as assist at some of their events. It's time for us to step up to the plate and help with any kind of contribution, large or small!
DONATE NOW!
If you would prefer, you may send a **check made out to:
Redwood Foundation
c/o Redwood High School
395 Doherty Drive, Larkspur CA 94939
**Please mention that you are a Redwood alum and give your year of graduation!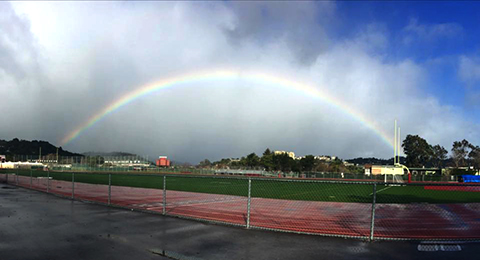 Rainbow Over Troppman Football Field, Flash Basham Track
SURPLUS YEARBOOKS AVAILABLE FOR SALE!
The Redwood Alumni Association has purchased most of the surplus yearbooks from Redwood for a very good price...We can offer them to you for only $50 including shipping and handling. We have one or more for most classes since 1975, some classes being more scarce. If you have lost a yearbook or never bought one, and are interested, please contact info@redwoodalumni.org with your name, year of yearbook and mailing address. We will notify you and if the yearbook is available, will give you payment instructions! Yearbook purchase(s) are available to Redwood alumni only.
ANNOUNCEMENTS
The Redwood Class of 1970's 50th Reunion is still scheduled for September 12, 2020. It will be in Marin at McInnis Park Club in San Rafael. Save this weekend on your calendar!! Update your profile on the class reunion web site www.redwood1970.com to stay in the loop. Pass it on!