Redwood High School Alumni
All Classes 1959 to present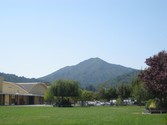 l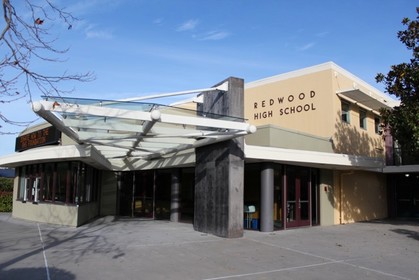 And the people stayed home
And the people stayed home.
And read books, and listened, and rested,
and exercised, and made art, and played games,
and learned new ways of being, and were still.
And listened more deeply.
Some meditated, some prayed, some danced. Some met their shadows.
And the people began to think differently. And the people healed.
And, in the absence of people living in ignorant, dangerous, mindless, and heartless ways,
the earth began to heal. And when the danger passed,
and the people joined together again,
they grieved their losses, and made new choices,
and dreamed new images,
and created new ways to live and heal the earth fully,
as they had been healed.
- Kitty O'Meara, Irish March 2020
Look for the positives... time to read, create, clean closets and drawers. Reach out to family and friends via phone, Facetime, email and even letters. Check in with older neighbors and most of all be kind. We are not alone.
The entire world is being challenged by this invisible virus. Be Safe!
IT'S TIME TO DONATE TO THE REDWOOD ALUMNI SCHOLARSHIP
Each spring the Redwood Alumni Association gives a $2500 scholarship to a deserving student. We need your support to keep this tradition alive, now more than ever. Please support the Class of 2020 by contributing $25 or more by May 15, 2020 to this wonderful cause and help a student reach his/her dreams. You may donate to honor a former teacher, staff member or classmate and we will notify them.
DONATE NOW to the 2020 Alumni Scholarship!
If you would prefer, you may send a check made out to:
Redwood Foundation/Alumni Scholarship
c/o Redwood High School
395 Doherty Drive, Larkspur CA 94939
REDWOOD COVID-19 UPDATE
In a recent meeting with Redwood's Princial David Sondheim, we were brought up to date with the status of the school year. School is in session but there is no one there. Teachers are teaching online, some more successfully than others. They are considering pass/fail grades instead of letter grades which bothers some as they are trying to improve their GPA. There are no spring sports and there will be no prom or other senior activities such as grad night but they are considering virtual activities. There will not be a traditional graduation in the amphitheater...maybe in August. The logistics of emptying lockers, returning books, uniforms, musical instruments and other equipment is still undecided. AP tests will still be given but online for 45 minutes with each subject test submitted electronically at the same time across the country and world. Many concerns about teaching and learning, especially sequential classes in math and language. Social distancing may continue into the fall which will be very difficult for schools. Classrooms may be ok... but the halls are more crowded than ever as the student population is close to 2000 again. Students and teachers are adapting and the seniors are being very creative trying to make this year special. It certainly won't be forgotten. Go Giants 2020!
THE REDWOOD ATHLETIC HALL OF FAME BANQUET HAS BEEN RESCHEDULED FOR OCTOBER 3, 2020

THE ALUMNI SPEAKER DAY SCHEDULED FOR MAY 22, 2020 IS BEING CANCELLED.
WE ARE STILL UPDATING THE WEBSITE AND RED PAGES... OUR ALUMNI SMALL BUSINESSES NEED MORE SUPPORT THAN EVER.
Redwood Alumni RED PAGES... CLICK HERE
This is a place where you can find local Alumni businesses and services or promote your own! It's always nice to be able to support Redwood alumni. We are just getting started... If you would like to be listed, please contact Ted Wray at jtedwray@gmail.com or info@redwoodalumni.org We will list your name, grad year and a link to your website, email or phone. Be sure to mention Redwood Alumni Red Pages when you do business. New additons to this site have already been added. We will feature one of our businesses in each newsletter, on the website or on Facebook throughout the year.
SUPPORT OUR LOCAL ALUMNI BUSINESSES
You can support these Alumni RED PAGES restaurants and food services during the Shelter in Place... they are offering great deals with take out and delivery!
ALUMNI PLANS FOR 2019-2020
We would love your involvement with our plans this year. The selection process has occured for both the Avenue of Giants and Athletic Hall of Fame... with the new inductees being announce very soon. Other plans inclued:
Introduction of the new RED PAGES... a way to promote alumni busineses

Athletic Hall of Fame Banquet on Saturday October 3, 2020

Alumni Speaker Day on Friday May 22 (CANCELLED)

Help alumni plan for 2020 reunions (1960,1970, 1980, 1990, 2000, 2010) as well as mini reunion

Fundraising for Redwood Foundation and Alumni Scholarship
NEXT ALUMNI COUNCIL MEETING
WEDNESDAY, MAY 13 AT 4:30 PM... ZOOM MEETING
If you would like to be included, send and email message to info@redwoodalumni.org

2020 REUNIONS...
If you are in the Class of '60, '70, '80, '90, 2000 or '10... there may be changes in reunion plans. We have no immediate updates but please keep an eye on our REUNIONS page on the website for current information. If you are still in the planning stage, contact us at reunions@redwoodalumni.org and we can help you get started and send you the class database.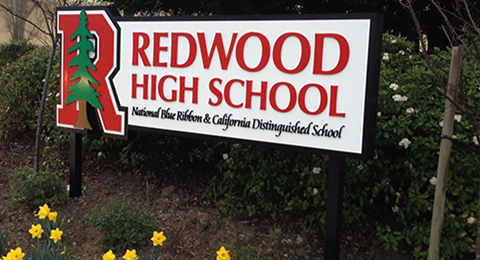 GIVE BACK TO REDWOOD... 2020 CAMPAIGN
Please consider giving back to Redwood ... just $20.20 will help... $20 is fine too!
The Alumni Association works closely with the Redwood Foundation. They raised over $1.2 mil last year to help Academics, Arts and Athletics. They sponsor our activities, we help raise monies for the Foundation and the Alumni Scholarship, as well as assist at some of their events. It's time for us to step up to the plate and help with any kind of contribution, large or small!
DONATE NOW!
If you would prefer, you may send a **check made out to:
Redwood Foundation
c/o Redwood High School
395 Doherty Drive, Larkspur CA 94939
**Please mention that you are a Redwood alum and give your year of graduation!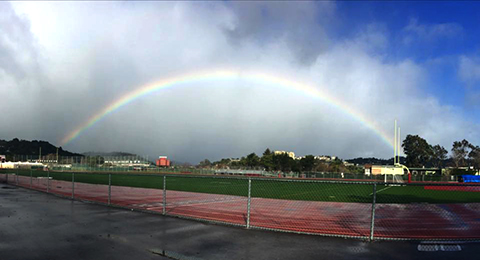 Rainbow Over Troppman Football Field, Flash Basham Track
SURPLUS YEARBOOKS AVAILABLE FOR SALE!
The Redwood Alumni Association has purchased most of the surplus yearbooks from Redwood for a very good price...We can offer them to you for only $50 including shipping and handling. We have one or more for most classes since 1975, some classes being more scarce. If you have lost a yearbook or never bought one, and are interested, please contact info@redwoodalumni.org with your name, year of yearbook and mailing address. We will notify you and if the yearbook is available, will give you payment instructions! Yearbook purchase(s) are available to Redwood alumni only.
ANNOUNCEMENTS
The Redwood Class of 1970's 50th Reunion is still scheduled for September 12, 2020. It will be in Marin at McInnis Park Club in San Rafael. Save this weekend on your calendar!! Update your profile on the class reunion web site www.redwood1970.com to stay in the loop. Pass it on!