Redwood High School Alumni
All Classes 1959 to present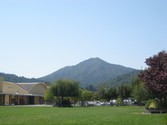 Class of '61
CLASS OF 61...61st REUNION
a great success!
Happy New Years! We made it to 2023!
Our redwood61.com website has expired. You can still access it but it will have advertisements. (**see note at bottom of page) All information will be on this site so please update your contact information. Since I "control it", I will keep this Class of '61 page up to date! I've already added the Class of '61 Reunion to the Photo Gallery.
Here are a few group photos... wish we took more! I'm using our high school names because we remember those! Stay healthy until our next reunion in October 2026!
Marilee

Kent kindergarten class all grown up... Dan Smith, Boyd Cahill, Butch Brear, Paula Daly, Dick Marjean Sellman, Charlene Bland, Carol Howard & Terry Wade

Ross kindergarteners together again... Doug Herst, Linda Murray, Billie Baruh, Sandy Frier, Peter Pike & George Cole

The bench... Kent Shew, Harley Leete, Lorin Vogel, Sherrye Black, Robin Beck, Mike Eisan (Alessio), Judie Block, Carole Hogrefe & Joan Bernardo
And... 4 years earlier...

Group photo at Class of '61 Turns 75 Birthday Luncheon
September 22, 2018
All you need to do is stay healthy!
** If you had signed up on redwood61.com to get notices of birthdays and other messages .. you might have noticed that those notifications are now coming with horrible, in your face ads! I've gotten a few and I was shocked, to tell the truth! The website itself doesn't looks so bad yet. This website has NOT been renewed but "still exists for free with ads"
Two suggestions...
Make sure you have registerd with the www.redwoodalumni.org website with as much information as you want to share
Log into the old www.redwood61.com website and under "Member Functions" ... click on "Notify Me" to unsubscribe or uncheck the notifications boxes that you do not want to receive... birthdays, posts... whatever. You can check those preferences on the Alumni website if you wish. I will not be sending any emails from the old site in the future.