Redwood High School Alumni
All Classes 1959 to present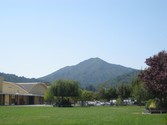 Alumni Speaker Day 2020
Every other year the Redwood Alumni Association invites Alumni to return to Redwood and speak to students about their career path since high school. Of course we would like to know the role that Redwood played in your chosen life course, but we are also interested in the diverse paths alumni have taken and the challenges you have faced. We will try to match alumni with specific classes based on your expertise and teacher/student interest. Please know ahead that we may not be able to accommodate everyone! We wil get back to you by the middle of April.
The ALUMNI SPEAKER DAY date is FRIDAY, MAY 22, 2020, the day before Memorial Day Week-end. The school day begins at 8 and ends at 3:20. There are seven periods of 50 minutes each and we hope that you would be able to speak to 2-3 classes. We have plenty of time to work out details. We will host a luncheon for the alumni speakers, host teachers and the retired teachers who attend. Questions can be directed to Marilee Rogers at marileerogers@hotmail.com.
You must be a member to submit this survey. If you are a member please log in first. You can't submit this form until you've logged in.
* Answer Required

| | |
| --- | --- |
| 1) | * Name: first, last, HS last name |
| | |
| --- | --- |
| 2) | * Best way to contact you: email and phone number |
| | |
| --- | --- |
| 4) | * Briefly describe what you are doing now. |
| | |
| --- | --- |
| 5) | * What are some possible topics that you would like to share with students? |
| | |
| --- | --- |
| 6) | Which subject areas would be most appropriate for your presentation? |
| | |
| --- | --- |
| 7) | * What time of day would be best? |
| | |
| --- | --- |
| 8) | Anything else we should know about you? |